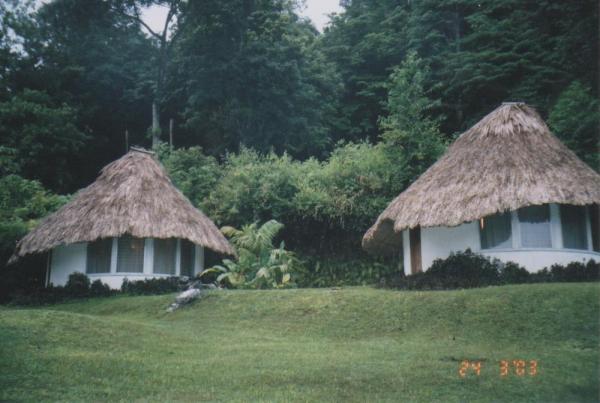 The next morning we got up at 6:15 to bird watch with Ben (our guide). He had worked in a national forest and was very knowledgeable about the animal life there and was an excellent birder. I had never bird watched before so it took me a while to be able to sight the birds. I had brought a pair of digital binoculars with a camera with me. We saw a toucan and various other birds.The morning air was crisp and I was very alert to sounds because it was unusually quiet at that time of morning. One day when we were walking in an open field, Ben let a huge red-rumped tarantula crawl into his hand. I knew they were not dangerous, but this one was gigantic and looked fearsome to me.
After birding, we had a wonderful cup of hot tea with honey. I don't think it was a special blend but in that setting, it was the best cup of tea I had ever drunk. I often wish I could be sitting on the verandah there or outside soaking up the majestic beauty that surrounded me. To back up a bit, when we first stepped outside our lodge that morning, we were stunned at the beauty surrounding us. We were in the middle of the jungle and there were a few Mayan ruins. All the lodges were round and had thatched roofs.
After a wonderful breakfast of juice, scrambled eggs, toast, muesli and jelly, we left for Ignatius. We were going to canoe on the Macal river. We met the other four people who would be traveling with us. Two of them went on to Ambergris Caye with us. There was a young African-American woman from Washington, D.C., a young Asian woman from San Francisco, and a young man and another woman. These people were all in their 20's. Despite the age difference in us and the others, we all got along great. Most of them were well-traveled. Our guide for the canoeing had two canoes for us. While on the river, we saw a Greater Blue Heron, a Kingfisher, a lizard which runs on the water and many iguanas, whom the locals refer to as Bamboo chicken because they eat them. That is one reason why the owner of Pook's Hill (Ray and Vickie Snaddon) raise iguanas and turn them loose in the jungle. I adopted an iguana for a donation while I was there and named him Ichabod.
From there, we stopped by the Five Sisters ( the Garcia sisters). They had revived the art of carving in slate. They used cut off hacksaw blades to do the carving. We bought a few souvenirs and ate lunch there. I bought pendants for Thor and Zed (my grandsons). The sisters burned Kapol, which is like incense. We ate lunch there which was served outside on a table under a covered porch. We were served chicken soup and rice. We also ate freshly ground tortillas which were very tasty. We were told the history of how the sisters had revived the art of slate carving. After leaving there, we stopped by a butterfly farm called Green Hills. We were shown each step in raising butterflies and shipping them. There were butterflies in all stages of life. There were plates of fruit, mostly mangoes, for them to eat. It was a very colorful and lively place.
After a very bumpy ride back to our lodge(most of the roads were not paved), we got there a little before five PM. We were tired and hungry. A cup of that wonderful hot tea awaited us. Sometimes the cooks would bring us tea and sometimes Vickie served us. The owners were very nice and interesting. After another wonderful meal ( the fried potatoes were the best I have ever eaten) and much interesting dinner conversation (several people had arrived and there were about 20 people eating that night), some of us walked along a jungle path and got a glimpse of a kinkajou, which has a long tail and resembles a raccoon. They are nocturnal animals.