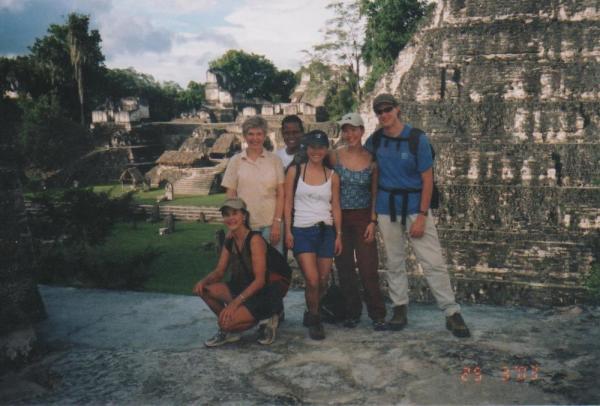 The next morning we joined our guide to the ruins. His father was one of the original archaeologists there. He was very knowledgeable, but difficult for me to understand. Before starting on our tour of the ruins, he showed us a small model of Tikal. Tikal was discovered in 1848 by Ambrosio Tut. There are still many uncovered ruins there.
Most of the pyramids have been closed off to climbers as there have bee a few deaths from people falling off of them. We climbed 71 rickety wooden steps to the top of one of the pyramids. I welcomed the chance to sit when we got to the top and look out at the view, which was absolutely glorious. I felt like I was at the top of the world. This particular pyramid was in one of the Star Wars movies. From the summit, we looked out over a dense jungle with just some of the tops of pyramids showing. We had a breathtaking view from our perch at the top of the pyramid.
Our walk through Tikal took a little over four hours. We saw the state tree, the Ceipa tree and some strange little animals. Our lunch consisted of barbeque chicken, potatoes and onion soup, vegetables and a roll with butter. We did a little shopping at the lodge. I bought a cane for my oldest son, Cord, as that is what I always bring him from my trips. Our meal that evening was quite good and consisted of pork chops, carrots, rice, fruit ad bean soup. By now, you know I have a hearty appetite and love to sample local fare.