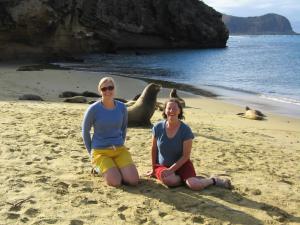 Happy Mother's Day! In celebration of the day's holiday, I thought I'd share one of my favorite mother-daughter trip journals. Adventure Life staff member, Julia Kocubinski, and her mom, Sue, took a trip to Ecuador's cloudforest, Quito, Banos, and the wildlife rich Galapagos Islands last November. Here's a highlight:
We snorkeled off the back of the boat, and stayed pretty near the line of lava rocks. We saw so many different fish right away! A few minutes into the water, my mom and I ended up away from the group, and had two sea lions start playing in the water with each other right in front of us. We watched them for several minutes, dancing in the water. It was one of the coolest things I had ever seen! We felt the need to move on from them – and am I glad that we did. We had a great time snorkeling with Fabricio. He pointed out so many fish to us, (none of which I can remember now) and then we eventually ended up on the edge of this little pool full of baby sea lions. We sat with them for nearly half an hour, watching them play and check us out. One even was nibbling on my mom's flipper while she sat on the edge of a rock! Occasionally one of the sea lion moms would come by and yell at the babies, who would run away from us for a few minutes. But a few minutes later, and their curiosity got the best of them and they were back playing with us. Then, to make things that much more exciting, the alpha male came right up behind us, and barked at us! I turned around (I was on the edge of the circle) and he was just feet behind me! Luckily all he did was back, and then swam back to his perch 50 yards away from us. For as slow and awkward as they look on shore, they are graceful and fast in the water! I did not want to be on that guy's bad side!
It's nice to know that "scolding moms" are not simply limited to the human species...
Enjoy reading the rest of
Julia's journal
and take a look at some of her
great pictures
. My mom has been campaigning for a girls' trip to the Enchanted Isles for years. OK, OK, Mom ... twist my arm. But you have to be the one who tells Dad he can't come. He'll have to hold his horses until Father's Day rolls around.