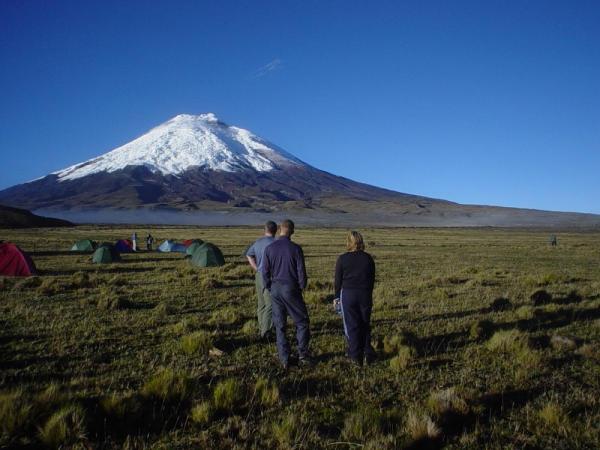 Ecuador's paramo, a complex ecosystem of rolling alpine grassland, protects precious fresh water and endemic species. It is stunning in itself, but when combined with Ecuador's legendary Avenue of Volcanos - including the mighty Cotopaxi - makes this unique area of Ecuador is a steadfast crowd-pleaser. Here are a few of my favorites trips to explore and experience this beautiful region of Ecuador.
Cotopaxi Trekking
Hike in the shadows of the Cotopaxi Volcano and follow the ancient roads of the Incas during our 5 day/4 night trekking trip. Experience the hacienda culture of the Andean highlands and explore Inca sites during an active trekking circuit near the Cotopaxi National Park and in the Condor Biosphere. This trip is fully-supported trip (you just carry a daypack, and we carry the rest)!
Want to go?
Ecuador Adventure
An active trip that combines adventures in the paramo with high altitude Andean forest, cloud forest, and glaciers on Cotopaxi Volcano. Jump right into the action with a fast-paced mountain bike descent down Pichincha Volcano to begin your Ecuador travel. Then settle into your lodge perched above the cloud forest canopy. Continue the adventure with an exhilarating whitewater rafting trip before we set off to explore the high Andes near the Cotopaxi Volcano on foot, horseback, and soaring over the forest canopy by zipline.
Want to go?
Cotopaxi Service Projects
Trip that combines some great adventure with the opportunity to give back to the people and places that provide such amazing memories. In other words, a simple way to say thanks. Ride, hike and bike for a little multisport adventure in Cotopaxi National Park. Then roll up your sleeves to help park rangers with trail maintenance, and assist with an ongoing reforestation initiative to help regenerate forests that were adversely affected by wildfire and outdated practices of clear-cutting.
Want to go?
This video from our local partner, Tierra del Volcan, further helps illustrate how special this region of Ecuador truly is. See below.
[youtube http://www.youtube.com/watch?v=QGWMJVDu7pg&w=650&h=366]