Date: 20/01/2010

Location: Science lab at Maria Guarderas School Guitig, Cotopaxi Ecuador

Summary:
The implementation of the science lab at Maria Guarderas School in Guitig has fully accomplish it's first stage. The Lab construction was finished by November 2010 with the support and donations form British Volunteers.

By December 2010 the Grant provided by Adventure Life was used for the following areas: water and sanitary connections and materials, electric materials and connections, lab implementation materials.

Laboratory actual status:
The lab is now been used by kids form 6th to 2nd grade since January 2011. Each grade uses the lab one day per week for 2 hours. At the lab, teachers reinforce the concepts that the kids are learning in the classroom on a practical, empirical and creative basis.

Most materials they use are taken form the school recycling campaigns ( glass, plastic, paper) plus lots of organic materials for their experiments.
An annual science fair is expected to be performed by June 2011.

Documents and reports:
There is a formal document signed by the School Director receiving the donation. Additional pictures and a full report video of the hole project (before and after, building, donation delivery and kids at lab receiving classes) will be delivered as soon as the video is edited.

Materials
Sink, pipes and connections - 329.06
Electric connections - 275.25
Electric extensions + adapters - 17.88
Sets of alkaline batteries - 8.40
Safety locks - 14.50
Bench for students - 110
Desk with chair - 115.45
Lab closet with lock ( for storage) - 148.90
Liquid marker board - 35.25
Cork board - 5.51
Electric strip ( for protecting electronic devices against voltage variations) - 16.40
Protective lab glasses - 7.40
Rubber gloves - 10.12
Electronic scale - 12.45
Regular scales - 9.45
Wall clock - 10.25
Electronic multimeter - 9.45
Sets of funnels - 4.30
Nail brushes - 2.45
Boxes of tacks - 2.20
Tools for marking the level - 5.25
Recycling cans - 10.74
Rubbish sign - 2.30
Lab materials (watering can, sprinklers, clamps - 21.48
Plastic shelve - 9.54
Protective masks - 4.70
Fire extinguisher - 21.45
Science books - 142.57
Science posters - 64.20

Total material investment: 1426.9
Plumber and electrician: 214
Transport: 84
Account management: 174.45

TOTAL: 1899.35

Notes:
Training program for teachers haven't been provided yet. The school scheduale has planned those for April and June 2011.

Contact information:
Maria Jose Andrade
Project Coordinator
TIERRA DEL VOLCAN

Phone: 593 2 2041520
Fax: 593 2 6009533
Want to Go?
country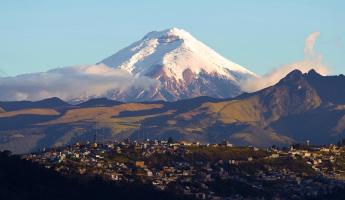 continent