Banos is considered the gateway to the Amazon. It is located in the cloud forest and the surrounding lush, densely forested, steep mountains immediately reminded me of Aguas Calientes, also known as the town of Machu Picchu. I couldn't believe how different it looked than where we had woken up that morning in Cotopaxi!  Banos means "bath" in spanish, the town is appropriately named for all of the hot springs nearby. We went for a very specific purpose... Casa del Arbol aka the swing at the end of the world! When we first started planning our trip this had been the first thing Kate mentioned. We each paid $1 to access the park where the swing was located and stood in a very unorganized line. As soon as Kate got her chance at the swing (90 seconds after I did) the sky cleared up and the volcano was perfectly visible in the background, and we got her pinterest worthy photo :)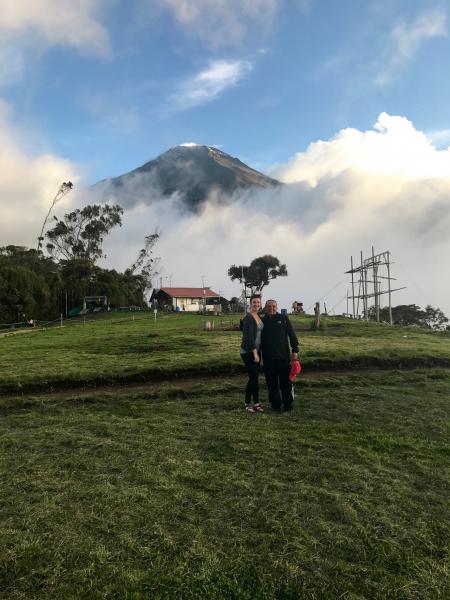 Our Banos visit came at the very tail end of our trip, exhausted as we were, we were so happy to have Giovanni with us to make recommendations and help us get the most out of our time. Banos is a great little tourist town, and that includes local tourist as well. Ecuadorians enjoy visiting Banos on their long weekends and summer vacations for the adventure activities, but also the ability to relax in one of the hot springs or spas. Restaurants and shops line the main plaza and the surrounding streets. During our short time in Banos we ate at a Mediterranean restaurant (actually twice because it was so good), a brewery owned by an American expat that welcomed its namesakes, 'stray dog brewery', and spent a few hours waiting out a rainstorm in a coffee shop that served monstershakes (a new trend in the foodie world).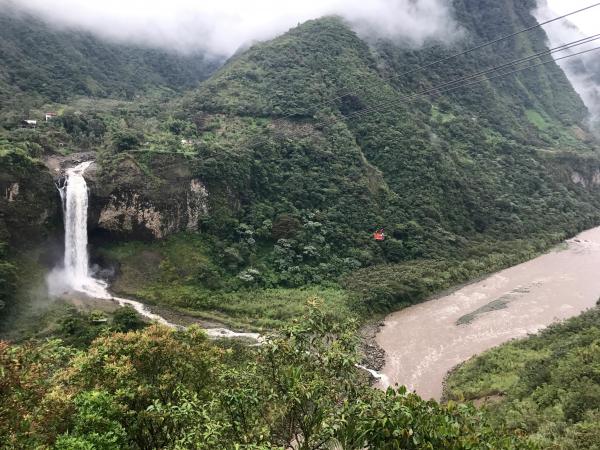 Since we were in the 'adventure capital' of Ecuador we entertained the idea of bungee jumping, but once we learned how cheap it was ($20-$50, I think I'd prefer to overpay for my safety) and we had crossed the raging Banos river on a cable car, about 700 feet up, which slightly terrified both of us, we reconsidered. In Banos there were a number of local homes with small ponds full of trout, they offered the "you catch it, we cook it" lunch option. Neither of us took them up on the offer, but we were happy to play with the two wiggling puppies that greeted us at one of the houses. Banos is also known for their incredible waterfalls. We were able to visit Pailon del Diablo (Devil's Cauldron), the most famous of the surrounding waterfalls. Our last afternoon, we relaxed in one of the hotsprings and reflected on our absolutely incredible trip.