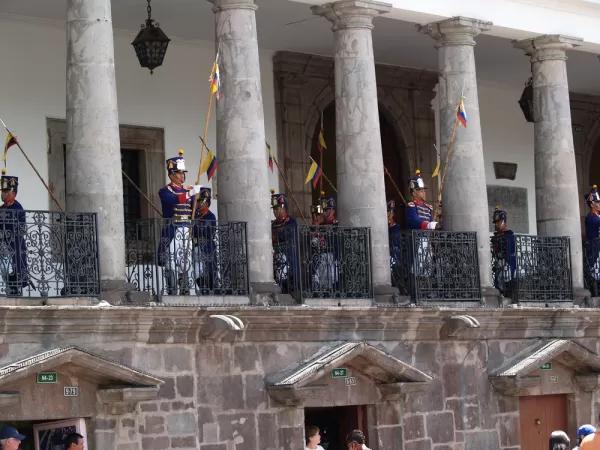 After months of planning, we were finally underway! However, the first day was somewhat strange. Hopefully, this was not an omen for things to come! We arrived for our 730AM flight out of LAX. For unexplained reasons, my wife's ticket would not be accepted by the computer. After several failed attempts by the ticket agent, a supervisor finally over-rode the computer and we were checked in! We switched planes in Miami and checked in for our next flight to Quito on LAN Ecuador. We were called back to the counter and asked to present our passports and then told we only had three bags checked. Strange! We arrived in Quito at 830PM after a very pleasant flight. It is strange how a small country like Ecuador can have a first-rate airline (free food, drinks and comfortable seats) whereas the richest country in the world hosts second-rate cigar boxes! Unfortunately, we then discovered that our son's bag was missing! He would have to get by for a week in the Galapagos with whatever we could purchase at the airport in San Cristobal. Never mind! All you really need is a couple pairs of shorts and tee-shirts.
We arrived at Hotel Eugenia, a pleasant hotel located in the "New Town" portion of Quito. There are several nice restaurants within walking distance of the hotel. The neighborhood seemed quite safe although we were advised to take a cab a night. We enjoyed a satisfying dinner at Metro Cafe. Ecuador is known for wonderful soups. My daughter and I had a local favorite--potato soup. Delicious!
After returning to our hotel, we discovered that a Burger King had a drive through which was located right under our window. Things start to get busy around 1AM!
One more strange thing happened that night. My phone which was not supposed to work in Ecuador began ringing at about 1AM. Our pet pug was being looked after by my sister in LA and somehow escaped and was lost! We were fortunately notified an hour later that it had been dropped off at the LA Animal Shelter. All was well! No more unusual events for the rest of the trip!