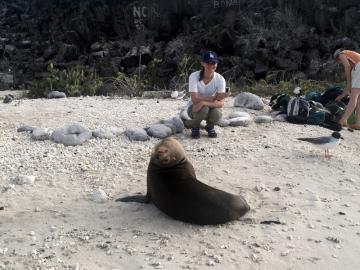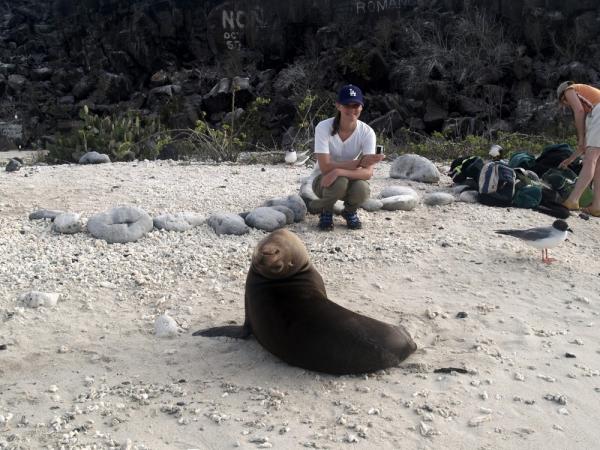 This was our free day in Quito. Our Galapagos guide, Luis, recommended a tour guide named Jorge who gave us a tour of the city and escorted us to The Equator.
In Quito, we spent most of the day in the "Old City" region of Quito where most of the important churches and governmental buildings are located. Fortunately for us, every Monday features the Changing of the Guard at the Presidential Palace.
After strolling through the Plaza Grande, we had a chance to enter the front portion of the Presidential Palace and gaze into the courtyard. Some type of important press conference had just taken place. Presidential guards stood at the entrance in colorful blue, red and gold uniforms with tall decorated hats and ceremonial spears.
We then visited La Compania, one of Quito's world class colonial churches. Having visited many churches throughout Europe, I can say that La Campania is certainly one of the most ornate if have seen. the entire interior of the church is covered in gold leaf. Too bad you can't take pictures inside!
Next, we returned to the Plaza Grande to watch the changing of the guard. The ceremony was complete with army marching band, mounted soldiers as well as foot soldiers, all in ceremonial dress. The President stood on the balcony of the Presidential Palace, waving to his adoring citizens.
After lunch, we took a ride to the top of one of the nearby hills to enjoy a panoramic view of the city which is located in a valley. The city is some thirty miles long but only about two miles wide.
Next we were off to the Equator. After a 35 minute ride, we passed a large monument constructed by the French to mark what was thought to be the actual Equator. The site which most tourists visit (including us) is some 800 feet north on a privately owned piece of land. One pays an admission fee and tours a series of "experiments" designed to demonstrate the power of the Equator and gravity. One such experiment involves water flowing through a sink drain. In the Equator, it flows straight down. A few feet north of the Equator, it turns counter clockwise and a few feet south, clockwise. I'm not sure I am convinced!
After returning to Quito, we ate dinner at a wonderful restaurant called Zazu which features Latin American Fusion cuisine. The food and wine were excellent!