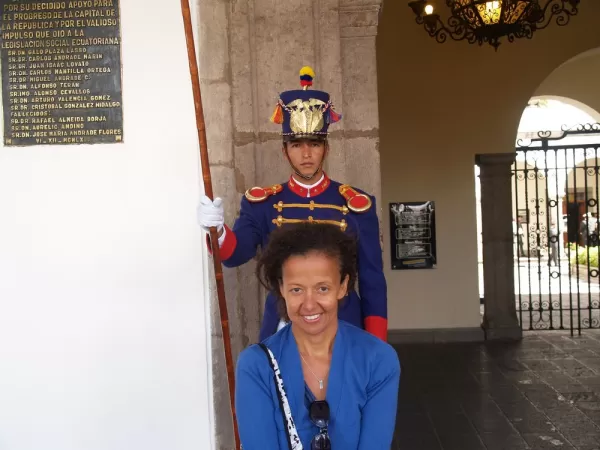 After a nice breakfast in the hotel, our Adventure Life driver picked us up at the Hotel Eugenia and drove us to the airport. I can't complement Adventure Life enough regarding the transportation to and from the airport which was always on time. The guides were very friendly and helped us all the way through check-in.
All of the flights we took in Ecuador provided food and beverage, regardless of the length of the flight. To our surprise, shortly before landing on San Cristobal, the crew suddenly opened all the overhead compartments and began spraying insecticide, theoretically to protect the islands from foreign insects. I am skeptical that a brief one-time spraying is that effective. After getting off of the plane, our hands were sprayed with some type of disinfectant. We then passed through immigration and we were able to buy our son a few pair of shorts and some shirts. All is well!
We were met at the airport by our two guides, Pepe and Luis, who we came to know well during our week's excursion. I can't complement them enough regarding their knowledge of the islands and their friendliness! In preparation for boarding our ship, we were fascinated by the sea lions sprawled all along the pier. We would get used to this as the week progressed. Most of the Galapagos animals have no fear of humans.
After boarding our ship, The Eric, we were treated to a tasty lunch and then had a chance to unpack in our small but comfortable cabins. After a fire drill, we left for our first snorkel spot.
At least thirty sea lions were sunning on the beach. Some were nursing their calves. Others were resting after hunting for food at sea. We were taught the do's and don'ts of sea lion etiquette. As long as you don't swim between a patrolling bull and his harem all is fine! As we snorkeled, baby sea lions would swim up to us, curious to check us out. After being ferried back to the ship in our pangas, we were greeted by our waiter, Luis, with cinnamon tea. This hospitality became a daily ritual after our "wet landings".
As the ship departed for the island of Genovesa, all of us congregated on the sun deck to view the sunset as we circled around a huge rock/ash formation protruding several hundred feet out of the ocean. Some refer to it as the "Sleeping Lion". Dozens of Frigate birds circled high overhead. We all enjoyred the sunset and then went for our first briefing for the next day's activities and the Captain joined us for a toast.