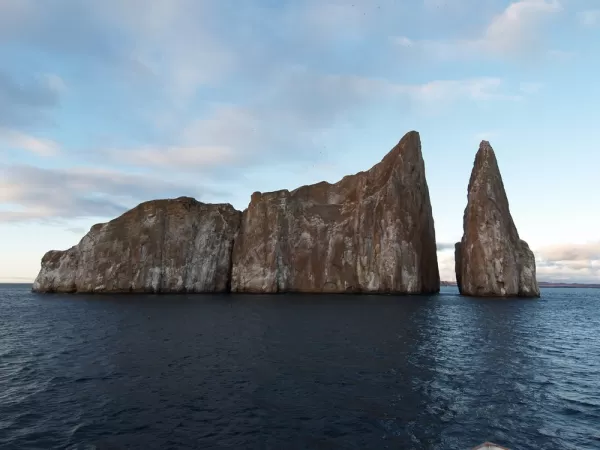 After breakfast on the ship, we took our last panga ride to the pier on San Cristobal. The sea lions appeared to be sprawled out on the stairs just where we left them a week ago.
We boarded a van and were taken to a cultural center where we had a chance to view displays which summarized the history of the Galapagos.
We then had some time to stroll along the beach front street and shop for souvenirs. Next, we boarded the van for a short trip to the airport. We said goodbye to our fellow passengers and tour guides. All of us got along very well and became good friends during the trip. A Dutch family we came to know (my wife is from Amsterdam) were traveling to Sacha Lodge and we planned to see them later in the week.
Our plane flew to Quito via Guayaquil, located on the coast at the mouth of the Gulf of Guayaquil. It is actually Ecuador's most populous city (population over 2 million). The airport is quite modern. Quito is in the process of building a whole new airport which opens in 2011.
After a short layover, we made the 30 minute flight to Quito which sits 9200 feet above sea level. As we were planning on staying three days, we took diamox starting a few days earlier which made it much more comfortable at the high altitude. It's not worth it if you are only staying overnight but if you are staying longer, it helps you sleep better and avoid altitude symptoms such as headaches.
We checked back into the Hotel Eugenia and to our surprise, our guide Luis had taken a direct flight and was at the hotel waiting to escort his next tour group back to the Galapagos. We treated Luis to dinner at La Ronda, a charming restaurant that features regional cuisine. On Sundays, a musical dance group performs folk songs from the Andes region of Ecuador. Great food, great entertainment!