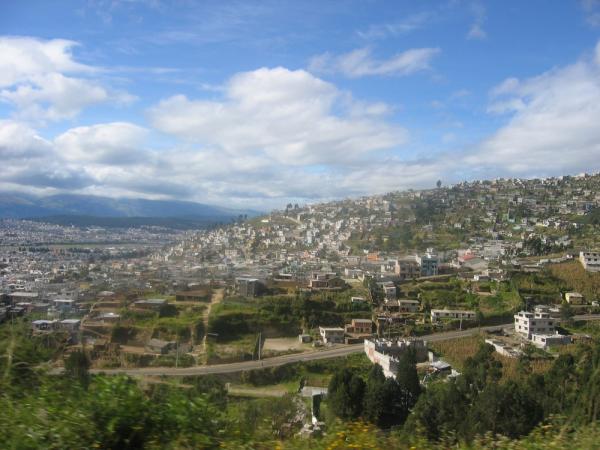 Had breakfast then headed out for our Cayambe-Coca Trek. We arrived at an ecological reserve high up in the Andes which I'm not quite sure was really Caymbe-Coca, as our itinerary differed from the planned one. Rather than hiking to multiple camp sites over several days we just stayed at one site and did circuit hikes. If anything, it was less work and the hikes were great so it was all good.
We started at a small building with our guide Felipe, then hiked up the road and through much cow covered farmland. We also saw some caballeros, one just a small child. Hiked past a small brick house with children playing outside who were kind enough to pose for us before running away in a little game of hide and seek.
The area we camped in was quite nice. It was surrounded by trees and a rushing stream. I had my own tent. Hail to the king, baby. Instead of relaxing in our new home and acclimating to the new altitude, Dave and I hiked pretty much straight up the mountain above. What can I say, it was exciting and we wanted to explore.
The views were simply spectacular. Lush mountains surrounding us, a plateau between cliffs with cattle and horses everywhere, funky orange flowers, and great views of Quito far down below. There were many skeletons lying around, so took picture with a cow skull masquerading as El Chupacabra.
Afterwards we had a tasty meal prepared by our cook Arturo. Then we hung out around a campfire. It was quite chilly. I had picked up a bottle of whiskey in Quito and we passed that around to help warm us up. Our guides seemed to quite enjoy this. Steve got a little careless tending the fire and burned a big hole in his glove. Good times! After a visit from a hawk we retired to our tents.