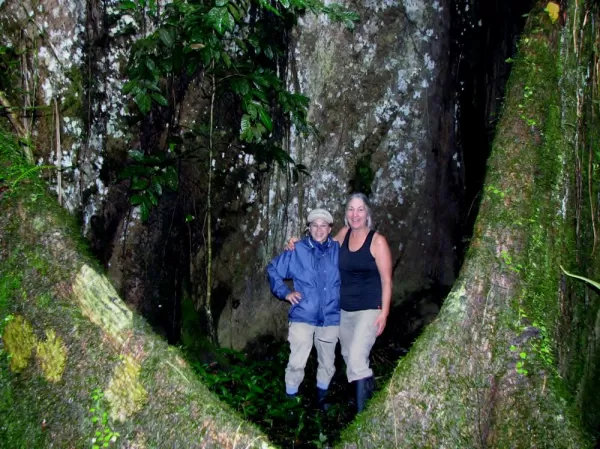 Well. I guess one of the highlights of this kayaking trip was when travel friend, Tina, with a scream, knocked over the privacy tent, and the commode, landing just like an upturned turtle- with her feet over the commode barrel, and just shy of the dirt pit. Our guide, Christian was yelling 'are your pants up? I can't come help if your pants aren't up! And I was of no help because I was laughing so hard I was wetting mine! We finally rescued her and set everything back up again. This was on our second night of camping in the rain forest.
The night before we had arrived bedraggled, wet and a little stunned, at the village of the Huaorani indigenous people of Ecuador. It had been a long day. We flew into Coca in the morning but left late because the other family in our group had lost their luggage along the way and needed to buy some clothes and shoes. We arrived in mud, rain and darkness. (This was a lesson learned for all of us. When you travel, always have some extra clothing in your backpack).
The next morning, day 2, we had some time to meet, greet and interact with the people of this village before starting our second day of kayaking. These people have one foot in the stone age and one in the new age. Amidst the mud and the leaky palm-thatched roofs, were some solar panels and a non-functional, but definitely western, toilet.
After a wonderful breakfast, prepared by Arturo, we began the next leg of our kayaking trip. It started our rainy but then the sun came out and we found ourselves surrounded by butterflies and bees.They landed on our paddles and on our hands. It was just magical. We camped that night under star-strewn skies and awoke to the call of birds and monkeys in the trees.
Following a breakfast that you just would not believe could be prepared in the middle of nowhere, we set out for our final kayaking day, arriving at the Shiripuno lodge late afternoon. We now had a bed, with a mattress, thank you very much, AND a toilet that flushed. Ah. And candles to light our way. We ate the most delicious soup, chicken and fresh fruit, in an open air thatched roof hut, with candlelight and totally crashed out - asleep - by 10pm. It was another fabulous star strewn night and, alas, no one was familiar with the constellations. I do know that the dippers were upside down, which was remarkable. If you go, bring a sky chart!
The next day was all about the forest. Our guide was a Haourani native who was able to mimic the spider monkey call. We heard them call back and then come closer and closer, in the canopy. They came over to see who was calling! Alas, they saw it was Raoul and a bunch of strange looking white people, and promptly left. . . We loved our walk, followed by another awesome lunch and then some piranha fishing. It was a great day. And we learned: that a large black garbage bag makes a great raincoat in a pinch.That you keep your toes away from streaming ants. To bring extra clothing in small dry bags so that you can go to dinner in something other than your pajamas. . .That you are ALONE when you are alone in the rainforest. And you thought you were happy on a cruise!