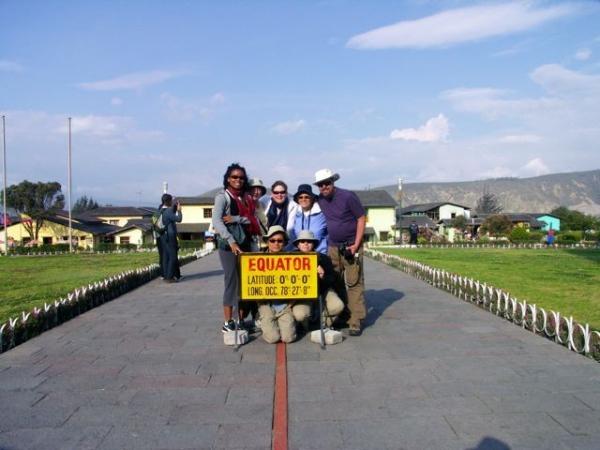 July 24-July 31 Quito to the Galapagos
Our Adventure Life rep and driver shovel us to the airport and get us onto our flight with polite and casual professionalism, and military precision. They give the impression that they can't be fazed.
As our plane breaks through the clouds, the Islands come into view. Suddenly, I lose my smug travel smarts. Okay, 146,000 people go a year - but it hits me how the Galapagos is a fabled destination, laden with Darwin, birth of earth stuff, and far out animals as innocent as toddlers.
We land at Puerto Moreno and are greeted by Johnny, our naturalist. He sports shoulder length, wavy hair that he can't keep his hands off, a lean but fit frame and the smoothest skin. If there is a Galapagos GQ, he'd be front and centre blowing pouty kisses. When he's not on the phone, he dispenses enough wealth of knowledge and information to satisfy the most cynical geologist and naturalist.
Our group of seven meets the other nine passengers, all American except for an Aussie couple. I feel somewhat disengaged socially as the shock of close communal living and eating for days hasn't worn off. Johnny takes us to our home for the next 7 nights - the Millenium, an 85foot catamaran. Clearly the only thing that will be rough will be the water. The vessel is immaculate, the rooms comfortable and surprisingly spacious. Jeff would later say the food and service is better than the monster cruise boats.
On the dock, we see our first sea lion, hamming it up for photographers. I resist the urge to snap forty pictures, knowing we will see many more, in a more natural environment. We return to shore and are bused to a land tortoise interpretation centre and farm where we see numbered land tortoises the size of bagels. There are more mature tortoises just off the footpaths, but Johnny is somewhat dismissive, and says many bigger ones will follow in upcoming days.
That first night, the Millenium cranks up its engines at 2am and we sway and weave at 11 knots/hr all the way to Espanola Island. Most of our group is in various stages and degrees of discombobulation from fatigue due to sleep deprivation and the motion. Hil looks ashen and is unable to eat and skips the first shore landing. We land on a beautiful, soft sandy beach with scores of sea lions, and even more tourists.
This is the first of many National Geographic moments that would unfold over the next week. Sea lion pups fresh from their mother's womb, lie motionless, their placentas still drip of blood. Groups of them spoon one another in perfect alignment. Some children have built elaborate sand castles only to have several monster male lions waddle over and crush the structures, then beach themselves on it, as if to say to the children, ''Your castle is in my home, piss off.''
And all the other tourists eventually do. Johnny for all his love of self, is impeccable at creating secluded moments. The beach empties but for us and several colonies of sea lions. We snorkel, we lie around, we cavort and we are alone. It feels like we are a million miles and years away from the rat race and it is absolutely splendid.
During lunch on the Millenium, several of the crew race into the dining area: ballenos, they exclaim--humpbacks a mile off the stern. When the crew still reacts with awe to wildlife, it tells you how special this place is. Who says you have to be young to be a kid? Who says age tempers the adrenal glands? Everyone on board lines the stern side, grinning as if they just learned Santa Claus was real and had adult gifts.
We motor to Punta Suarez and hit the booby trail. The sea lions now have to share the stage with hundreds of marine iguanas basking in the sun on rocks, blue footed boobies wobbling about their nests, giant albatross putting on an air show when not courting their lifelong partner to be - all within inches of us. It is a rich and diverse island whose scenery alone would merit visitation. We wonder if the trip had already climaxed, as we can't imagine a better day. Chantel snorkels for the first time and though we see no sea lions in the water, she spies a manta ray and is totally hooked.
We hit the tiny island of Santa Fe and here Terry falls in love. We snorkel much to the delight of the sea lions who play chicken with us. They love to nibble our knees, then swim straight at us, swerving at the last second. If they could drive, they'd do well on the mountain roads. This daredevil swimming both exhilarates and unnerves us, but Terry eats it up and she is the last out of the water, shedding her snorkel gear to reveal tears of happiness. More manta rays, barracudas, reef sharks and too many schools of tropical fish to remember share the underwater accolades.
Our ship motors up to Floreana Island. It is Jeff's birthday and the chef has baked a cake. But the waters are unforgivingly rocky for us city folk and everyone in our group of seven, except Jeff who sails, feels it. Only Ev and I are able to witness Jeff blowing out his birthday candles; then we scurry off to down some Dramamine and bed. The Dramamine lays me out for an hour, then I wake up famished for cake. I stagger to the lounge. All the passengers are in their cabins and some of the crew are huddled around a Playstation2 game.
The land tortoises of San Cristobal's interpretation Centre, and on Santa Cruz, are similar to the land and marine iguanas in that they are as docile and tame as dairy cattle, but a whole lot more prehistoric. The tortoises lumber along at 300 metres an hour, that is when they aren't eating, sleeping, or mating, their primary activities. Supposedly they can live to two hundred years, and their well-lined, cracked skin shows every moment. The iguanas are thankfully herbivores and smaller than us. Every monster movie I saw growing up likely was animated and created based on these hideous but ultra relaxed looking reptiles.
One of my favorite creatures is the male frigatebird. It's black but puffs a red neck and chest into an enormous balloon to attract females. When it's hungry it poaches from other birds and are superb fliers. They mate in colonies but are generally monogamous. Trish says I like them so much because their nests remind me of the red light district in Amsterdam.
I had read on the blogs that the cruises tend to fall into a rhythm. The names of the islands and beaches blur together, sea lions and their unmistakable stench haunt every beach, lizards dot the footpaths, we alternate wet or dry landings, we snorkel, hike, find photo ops galore, and receive information overload. While this is undeniable, one should not mistake this as predictability and mundane. It's a treasure trove of Mother Nature's richness, massaging the senses until one is intoxicated with it.
The beaches, rocks and tidal pools aren't all peaches and cream. We see bodies of sea lions that have been decomposing for weeks. Skeletal remains of pelicans, sea lions and iguanas lie inches away from the living. Birds feast off carcasses and swoop in on inattentive crabs. Here life is never far from death, nor does it shy away from it. I am tempted to pocket a piece of sea lion bone, perhaps a vertebrae, or the hip bone of a pelican. After all, they will eventually become part of the beach anyway. But Johnny warns us that our gear will be thoroughly searched and a sizeable fine will result.
We snorkel six of our eight days. By the end of the trip I have an encyclopedic knowledge of many of the tropical fish--parrot fish, angle fish, damsel fish, tiger fish and so on. I've snorkeled the Great Barrier Reef, which has more impressive fish, but this overall experience is intensely richer.
It boggles me how whether we're in the water or on land, we invite ourselves onto another species hood. We are unannounced and uninvited guests. We are so good at taking over and asserting our dominion. But the wildlife and the Mama Hilde's of Ecuador may have it right. They are far more chilled than we. They appear far more at ease with life, even though their struggle to survive is more perilous than ours.
On Bartoleme Island Johnny says it's a 6am wet landing, and a difficult hike, 360 steps straight up to the lookout. That scares off a third of the boat. We are the first zodiac out and have the trail to ourselves for about half an hour. But it's a ridiculously jaunty walk, boardwalk with handrails and lunar-like landscapes all the way up. Johnny does it all in bare feet. I swear he has just shaved his legs.
The summit provides the signature photo op of the Islands. Ironically it is not of any wildlife but of Pinnacle Rock and the breathtaking volcanic landscape and coastline. But for me it's more than that. This is our final full day and night. Our climb symbolizes our journey and the view says more than any antediluvian animals, and there have been so many, that life as we know it, started somewhat like what we just witnessed in the past week. It is an astonishing epiphany, and deeply humbling.
After the hike we breakfast then check out the Galapagos penguin before snorkeling around their favorite rocks. Chantel spots a sea turtle and Trish a manta ray.
On North Seymour IsIand I see a gentleman showing off his IPhone. He had to see if his GPS and web browsing worked out here. Did he forget he was on the Galapagos? I don't think he was similarly humbled. So many times in the past week the Islands has felt like a privilege. Not because we have the bucks to shell out for it, but because we experience a snippet of life largely untainted, and still innocent. The chances of us eventually messing it up are probable. Though credit must be given to Ecuador for recognizing and diligently attempting to safeguard it. I understand now why those who have been here and those who would like to come speak of it as those it was in a category onto itself, something about life's mysteries revealed, about a separate creation.
The end of our cruise hangs in the air heavier than any humidity could. I hate goodbyes. It's always, ''see you later''. In this case it is to the Islands, the experience, and the privilege. We also make some new mates. It's always a bonus to meet travelers with open minds and panoramic views and invitations to visit them in their habitat.
We say our goodbyes to a superb crew and Johnny, who looks at us with big glassy eyes that make you wonder if he was once a sea lion himself. We have eaten more and better than on any other travel, we have been pampered to the point of embarrassment. We do the requisite address exchange with the other travelers after we return to Quito. Adventure Life reps chauffer us to Casa Aliso, easily the cushiest luxury boutique hotel ever for Trish and I. If I didn't leave the hotel for the next two days I would've been happy as a sea lion terrorizing lilly white snorkelers. But we'd made arrangements to see Otavalo.