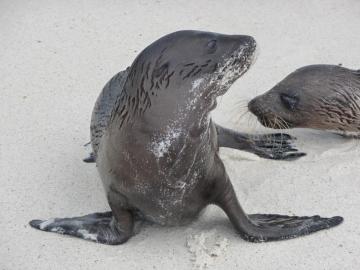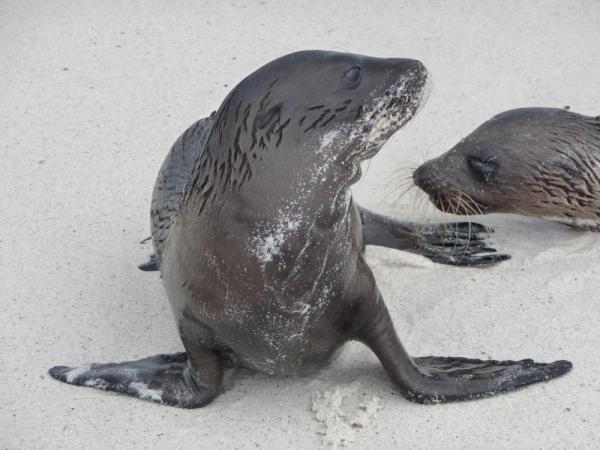 Santa Cruz was very lush and green, quite a contrast to the stark volcanic landscape of the past few days. The Prickly pears, (as tall as trees and with orangy red trunks) and the tropical flowers were a pleasant change.
Our first stop was the Twins, two collapsed, vegetated craters, sitting high in the misty sky. From here we went to a tortoise breeding/rearing facility where eggs are collected, reared for 7 years and then released into the wild.
Upwards and onwards to see "lonesome George" the last living tortoise of his species. It was sad to hear that attempts to breed George with a similar species of tortoise were unsuccessful, producing infertile eggs. His death will result in the extinction of another species from the planet.
We did see other species of tortoises that were doing much better. We met Diego, who on the other hand, is quite a "stud". He has sired over 2000 turtles. We were told that it takes almost 30 years for a tortoise to reach sexual maturity. It was only recently that some of his offspring have matured and successfully hatched young - the next generation.
We walked back to pier (all downhill) where the pangas were waiting to transport us back to the Flamingo. We managed to squeeze in a little souvenir shopping along the way. On the boat another fine meal was awaiting our arrival - I am glad that they didn't weigh us before and after the trip!