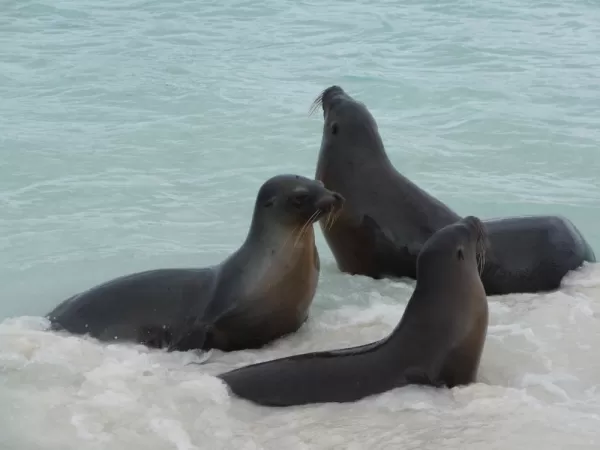 As usual, we awoke to a new location, this time alongside Espinosa Island. Our 2 hour walk brought us close to colourful "Christmas Iguanas" adorned in reds, greens and black. It was getting close to Christmas and thoughts of the holidays were in everyone's minds. I would soon be heading off to Merazonia, a wildlife rehabilitation centre, where I would be volunteering for two weeks (over Christmas and New Years ). But now was not the time to think of Christmas or tomorrows plans. We had to cherish every moment and partake of what Espinosa had to offer us.
Waved albatross with enormous wingspans soared high in the sky while young ones waited on shore until they were ready to fledge. We were told that once the young leave, they do not set foot on land again for 5 years! That is incredible. As we stood atop the sea cliffs we glimpsed turtles swimming in the turquoise water below. Frigate birds and red billed tropic birds soared overhead as we strolled along the path, intrigued by the lava lizards, nazca boobies, flycatchers, finches and the snake that slithered by. It was a really, hard place to leave.
Back we went to the Flamingo, where some of us swam off the back of the boat in the spare time before lunch was ready. This afternoon proved to be different from the others. We were transported via panga to a beautiful white sandy beach where we had free time (what a concept) to snorkel, swim, walk or just plain old relax.
There were sea lions of all ages basking in the sun, while nearby, young pups were frolicking and playing on the beach. The ocean was a blend of blues, greens and turquoise and was warm enough to swim in without a wetsuit. Time passed quickly and before we knew it, it was time to go back to the boat. we still had to head to San Cristobal where we would be debarking the following day.
Before dinner we had a farewell toast with the entire crew. I was going to miss the ever-smiling face of Maria, a very talented woman ( a jack of all trades - house keeping, first mate and what ever else needed doing) and our knowledgeable and friendly guide Gaby. The entire crew was awesome. I also appreciated the efforts of Adventure Life to reduce their environmental impact. This was one of the factors that influenced my choice of tour companies.The Galapagos is a very fragile place that deserves to be protected in perpetuity.
After dinner there was a flurry of email exchanges and a promise to share photos. We went up top, and gazed at the lights of the city, the lights of the boats and the stars above. This was an incredible trip and I would be bringing back lots of memories and photos to help me remember my time in the Galapagos.
We had breakfast at 7:30 and were off the boat by 8:15 so that there was enough time to visit the visitor centre and to walk around town. As we waited for our plane at the airport I watched with envy, the people arriving, who were about to start their Galapagos aventure.