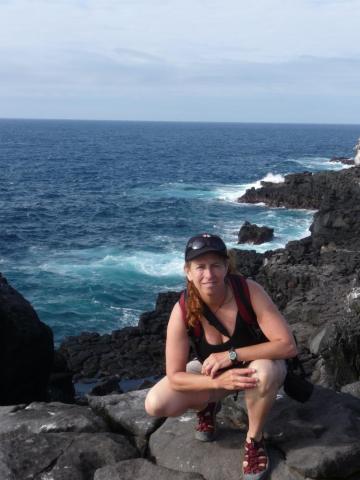 During the morning hike on the lava strewn coast of Santiago Island we were treated to the sight of colourful marine iguanas, birds such as yellow warblers, plovers, anis, ostercatchers, finches, pelicans and a new species of sea lion - the fur sea lion.
We stepped close to the edge of blow holes and arches, mesmerized by the water rushing through the holes, the sound of the blows and misted air. The bright orange sally lightfoot crabs scurrying about provided a sharp and welcome contrast to the ever present black lava.
Those of us who thought that there was nothing new to be seen while snorkeling were quickly proved wrong. At Sombrero Chino (Chinese Hat), some of us were in close proximity to a family of white tipped sea sharks. They were beautiful to watch. We swam alongside penguins, rays, and marine iguanas. Our previous sightings of marine iguanas were on shore, not while in their element, swimming under water.
The sea lions were really playful, appearing out of nowhere and coming within inches or should I say centimeters of our masks. A little startling to say the least.
I learned that it is the convergence of currents from Australia, Panama and coastal South America that provide such a nutrient rich area allowing for penguins, iguanas, sea lions and turtles to occur in the same place. The galapagos is truely an amazing place.
We enjoyed a beautiful cruise to our mooring spot alongside Bartolome Island. At one point Pablo, the captain, announced that we should all go up top. We were approaching Rabida Island, a collapsed and weathered crater with a lake in its centre. Imagine our surprise, when we spotted bright pink flamingos, on the far side of the lake!
As the sun set, we passed Pinnacle Rock, a volcanic needle standing tall alongside Bartolome Island. It appeared to be guarding the bay. We were lulled to sleep by the gentle rocking of the boat.