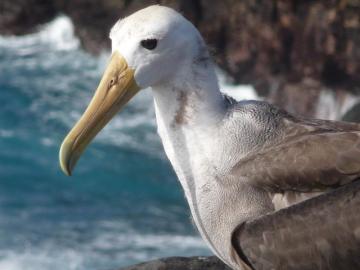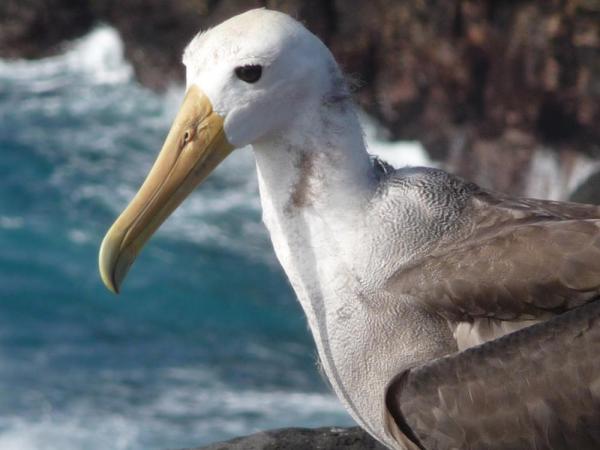 Every morning I awoke with a smile on my face wondering what the day would bring. I was not once disappointed. I awoke early and made my way to the front of the boat in search of whales. They are sometimes spotted in this area, however not this morning. Instead, we watched a large pod of dolphins playing in the waves. They swam effortlessly under, over and through the waves in perfect synchronicity with the rhythms of the ocean.
We arrived at Punta Espinosa to find it teeming with marine iguanas.You had to watch every step as they were everywhere! As it was mating season we were able to witness aggressive behaviours and lots of head bobbing. It was quite comical watching their posturing and strange head movements. We learned that the marine iguanas feed on chlorophylian algae as well as the feces of sea lions (yum). Another interesting tidbit of information is that they are actually expelling excess salt through their nostrils when it looks like they are spitting.
Punta Espinosa was beautiful. The stark landscape of rope and aa lava contrasted sharply with the blue hues of the ocean. In our exploration of tide pools we saw green sea urchins, large spiny sea urchins and shells. We were also lucky enough to see a sting ray, several marine turtles and a flightless cormorant from shore.
Our snorkel off the the west side of Isabella Island was magical. Turtles swam both below and right beside us, moving effortlessly through the water. Not to mention the penguins, the chocolate chip starfish, the orange sea horse, sea urchins and the multitude of colourful fish all around us. There was a fascinating and mysterious world right at our fingertips just below the surface of the water.
On our evening panga ride we saw penguins, blue footed boobies and flightless cormorants. Flightless cormorants are quite intriguing. Their wings are tiny, atrophied to little remnants, as they are not needed for flying. Instead of soaring in the sky, these birds spend a lot of time under the water hunting for food.
After dinner I gave a photo presentation to the group on the national parks of the Yukon. lt was fun and there were lots of questions and good discussion.