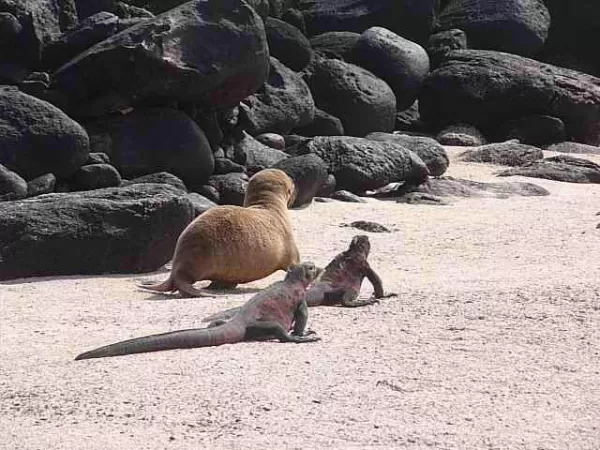 After an early breakfast we walked up the 350+ steps to the summit of the central volcanoe of Bartolome Island. From here we experienced great views of the nearby islands and were exposed to a landscape of volcanic desolation. We could see spatter cones, scoria formations, tuff cones and black volcanic sand. It was not entirely desolate, as the isthmus to the west was covered with mangroves and coves of golden sand.
Once again it was time to snorkel, this time we ventured along the rocky shoreline towards the pinnacle. There were two playful sea lions who revelled in sneaking up on unwary snorkellers and startling them. One had the audacity to tug at the zipper pull on the back of my wetsuit.
Then it was back to the boat where we were once again greeted by the smiling faces of the crew. Luis, as usual, would be waiting for us with a cool refreshing drink and a tasty snack to tide us over until dinner. Onwards we cruised to Seymour, the island of blue footed boobies and frigate birds. Some of the male frigate birds that we saw had really large inflated red pouches. We learned that these colorful inflated pouches are used to attract females. Supposedly once a female choses a male, it is not uncommon for her to pierce his pouch so that he is no longer attractive (ouch!). The pouch does heal before the next breeding season.
The blue footed boobies were so trusting, not bothered at all as we walked beside females sitting on eggs and newly hatched downy young. It was incredible. I would love to be able to see the mating rituals of these birds, perhaps another time.
After dinner we cruised on to Santa Cruz Island. It felt strange to see the lights of a city. It had a beauty of its own, albeit different from that of a star filled sky. A few of us sat up top, talking long into the night.