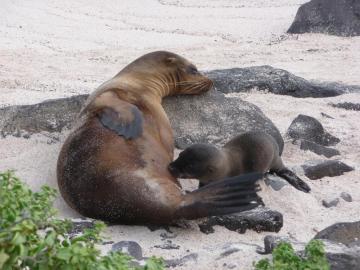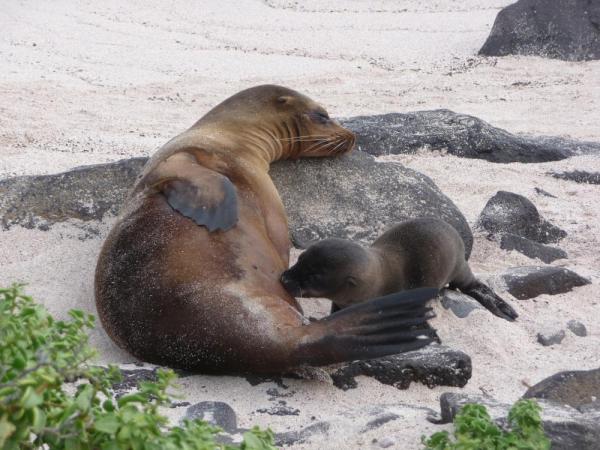 We awoke in Darwin Bay to a view of Genovesa Island. It was but a short panga ride to the beach where Gaby and Pepe, our guides, introduced us to some of the local inhabitants - red-footed boobies, frigate birds, red-billed tropic birds, the nimble sally lightfoot crabs and iguanas. It was amazing how close one could get to the red footed boobies. There was no need for a telephoto lens - my little point and shoot camera worked wonders. The red footed boobies, unlike the blue-footed or nazca boobies, perch in trees wrapping their bright red feet around the branches. The blue around their eyes and on their bills looked as if it had been skillfully painted with a fine brush.
After our wonderful lunch and siesta we headed to Prince Philip's steps. We saw nazca boobies in all stages of life, from delicate downy chicks to mature adults. They were very innocent and fearless of people. After living and working in the Yukon for 30 years it was absolutely amazing to be able to get so close to wild birds and animals such as iguanas. Back home moose, bears, wolves etc usually run at the sight or scent of humans. Gaby and Pepe shared their abundant knowledge of the natural history of the Galapagos islands and explained importance of staying on the trails and not touching the animals.
We returned to the boat and started our 14+ hour journey to Fernandina Island. It was quite rough and not surprisingly several of the group didn't make it to dinner. That evening most of us sat on the deck enjoying the fresh air and gazing at the brilliant stars illuminating the night sky. I felt small and humble watching the vast array of stars in the sky, it also made me realize how small and fragile our world is. If I was home, I would be partaking in a moonlit ski with friends, however, here I was experiencing the same moon in the Galapagos. Many a tale was spun that evening as we shared glimpses into each others lives.