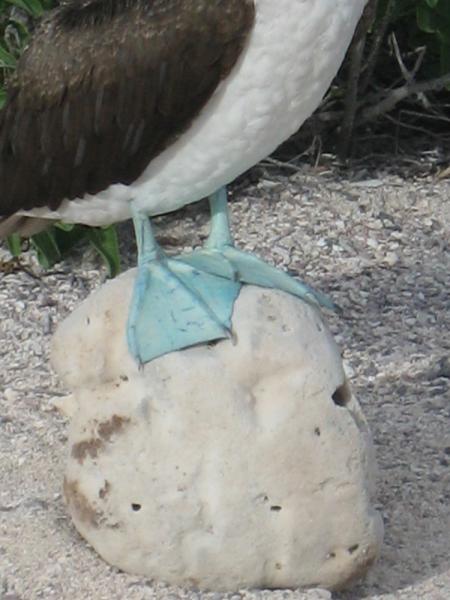 North Seymour. The island where you "see more."
This dry, dusty, windy island is home to the land iguana and bands of frigatebirds.
Oh, and the dancing blue-footed boobies, too. That was fun to watch. Imagine a sharp shrieking whistle, and then a stiff little bird bowing his head while extending his wingspan much farther than it looks like he should be able to stretch. The couple then starts staring up into the sky as if they are questioning where the startling whistle came from. Meanwhile they are switching their stance from one foot to the other as if the rocks below are too hot for their cute little turqoise webbed feet.
While the frigatebird does look maginificent, I'm not inclined to call this species cute. Mean is more like it. Do you know the frigatebird can't catch it's own fish? It STEALS from the other birds. Pirates.
The third sighting of which I previously metioned was the land ignuana. They are so old and wise, that's why they take their time and smile. It's true! The land iguana has one of the best smiles in all the animal kingdom.
But, nothing compares to the smiles on board the broken Eric when, later that evening, Pablo announce that during our day's excursion, our hard working crew swam to shore with one arm tied behind their back just to find that elusive new part! Our crew had to swim back to the Eric with the part wedged between their teeth. So there! To all of you passengers who yelled and cried, I bet you wished you had stayed as calm as the wise old land iguana now. No matter, we were on our way to Fernandina and Isabella!