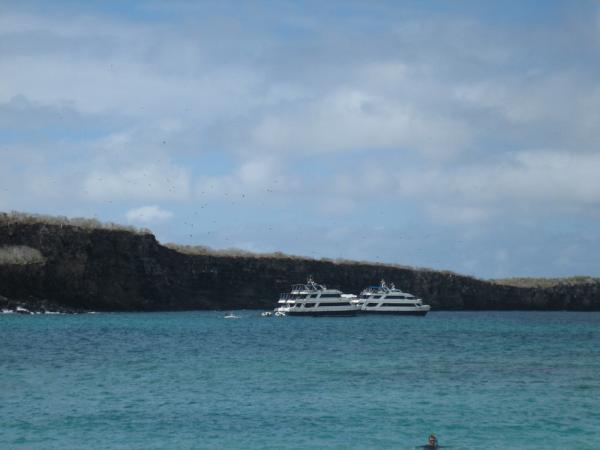 This morning began as usual, awoken by eighties music and the familiar voice of our guide, Ivan. "Good Morning! Welcome to another day in Pharadyze . . . Galapagos Islands. Breakfast will be ready in half an hour. Breakfast in half an hour." Holy Cow! I think I can actually face food for the first time on this trip. Oh thank you gods of the repaired ship parts!
Well, Fernandina is spectacular. I take back all the judgment I placed on those who turned red and fled to their cabins. Fernandina is worth all the temper tantrums in the world. The piles of marine iguanas are surreal. The ropey lava is so beautiful, I would carpet my house with it, if I could. I still don't really understand why there is a full skeleton of a whale meticulously placed on this island, but I'm okay with not understanding everything in this world. Like, why won't sea lions adopt an abandoned baby? I still get teary when I think of the cries of that courageous little one. I guess that's life. If you happen to find yourself on Fernandina, be sure to get tickets to the circus. That's right. There's a show on this island. It consists of a mommy sea lion, her cub, and the biggest bull in all of Galapagos, Shaq. They live in a lagoon and swim all day. Shaq will bark and bark and bark above water, dive under, pop up, and then start all over again.
We never made it ON Isabella, but we did take the most fantastic panga ride around her coast. On this ride we got up close and personal with crabs, penguins, marine iguanas, and blue footed boobies. Yuck! The crabs. It seriously looked like a scene from a horror movie. As the panga navigated into a cave, out came an unending swarm of alien looking crabs. AND THEN, the panga driver pushed my edge of the boat into the wall! AAAA! Don't let the crabs touch me! Turn left! Turn left!
"Look at the penguin on the rock!" I wish you could hear my accent here, but I know that is impossible. This saying is one of the funniest memories of the trip for me. Our guide Karina, Ivan's older sister, unbeknownst to us had an inside joke running with Enrique, the panga driver. Apparently Enrique didn't understand why the guides get treated differently than the crew, since all they have to do is sit around all day and say, "Look at the penguin on the rock." Well as it happens, there WAS a penguin on a rock. Karina caught herself half-way through saying this infamous phrase. So, as a little dig to Enrique she says to all of us, "Enrique is learning how to speak English. Diga, diga, Enrique. Say it." Enrique, knowing that he cannot compete with the fiery Karina, finally resigns to his fate and says, "Look at the penguin on the rock." We all clap and cheer. Later when I watch this scene replay on my husband's camcorder I notice that right before we all started clapping one of the penguins on the rock, pooped on the rock. As we started clapping for Enrique, the little penguin actually bows! He must have thought we were clapping for his poop. Another day in pharadyze . . . Galapagos Islands.
But, wait! There's more. I haven't made too much mention of our snorkeling days. Although they've been awesome, they simply have not compared to the snorkeling off the coast of Fernandina. And, that's because of the sea turtles. You are supposed to swim with a buddy in this deep ocean, but my new husband was all together way too slow. I could just feel the turtles ahead, even if I couldn't see them. He could sense the turtles were behind us. Separated already! But, in the end, we were both right. Imagine that. We met back in the middle, breathless, blubbering about the magically swimming turtles below us. It amazes me how slow they seem to swim, and how quickly they turn on the jets and away they go. I did try to race one, but the turtle was faster.
Word got out that we were on our honeymoon. And that night we were greeted in our room by a bottle of champagne and a card signed by the crew. We were speechless, not to mention a little scared of a whole bottle of champagne and a 7 AM wakeup call. It was fun for us to share the champagne with the crew. And, Ivan even sereneded us with his guitar. You can't beat a honeymoon in Galapagos.