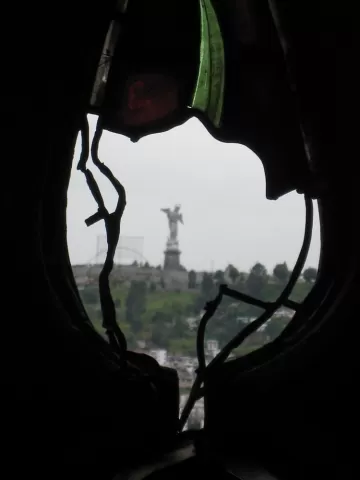 There were two highlights today: the splendid view from the hike to the summit and snorkeling with penguins. The hike to the top was interesting the whole way up with variations in lava flow leaving the rocks looking sometimes like stalactites, strips of different colored cake batter poured down the mountain, and rocks scattered like we were visiting another planet. Once at the top, everyone posed for a picture of our Millenium family and Galo snapped a picture with each camera.
On the way to the snorkeling beach, our pangas headed over to see the penguins fishing near the rocky shore. They jumped out of the water and shook their little tails. As we entered the water, birds started diving into the water. Galo told us to head for the birds, and we were rewarded with snorkeling with penguins. They shot through the water just like I saw in an IMAX movie on Antarctica – only I was right there!!! After five minutes they were gone, but the water was clear and the views were wonderful. There were volcanic formations under water, flows, small cones and arches. We saw bigger fish here than we have seen at other places, and ones that looked like they had big lips
Last night Galo wanted us to watch Master and Commander so we could preview what we would see today. One by one we trickled off to bed. So this afternoon we finished up the movie. It is much more beautiful in person.
We had to get fuel for the boat so I spent part of the down time learning about Uri's travels though South America and seeing the pictures that went with it. I added more places to travel to on our list, along with great recommendations about what to see when we go. Erik is coordinating an email list so we can exchange pictures.
Jon joined some of the other guys for a game of Galápagos poker. I knew it is getting serious when Peter got up and returned with sunglasses, so I headed out to the deck to watch the sunset. We were already underway to our final stop tomorrow, and coming up behind us was a sailing ship. We joked that it may be the Acheron from Master and Commander.
Tonight we were served lobster and the chef decorated a cake, thanking us for joining them. It has gotten me to pondering that on each leg of our journey, every single person from Ecuador who we have encountered on our trip has made it a wonderful experience. I feel almost like I have been spoiled with great service. Every tourist I have met, except one, has been fantastic to meet. I have learned something new from each one that I hope I can take back with me and learn from.