Our Ecuador adventure ended in the beautiful city of Baños, located approximately 3 hours away from Quito. Tucked into a small valley at the mouth of the Amazon, Banos is a vibrant city known for a plethora of attractions. This fast growing tourist town has a little something for everyone.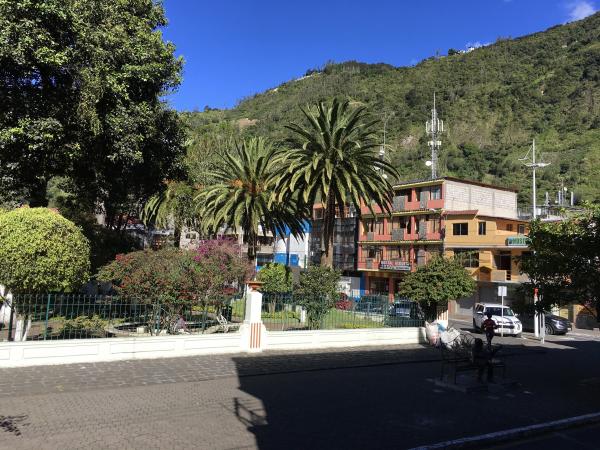 First and foremost, Baños (meaning "baths" rather than "bathrooms") is famous for it's termas, or mineral baths.  Baños is blessed with an abundance of thermal waters because of the very active volcano, Tungurahua, just a few miles away. These thermal waters, and the stunning natural setting, make Baños a haven for relaxation.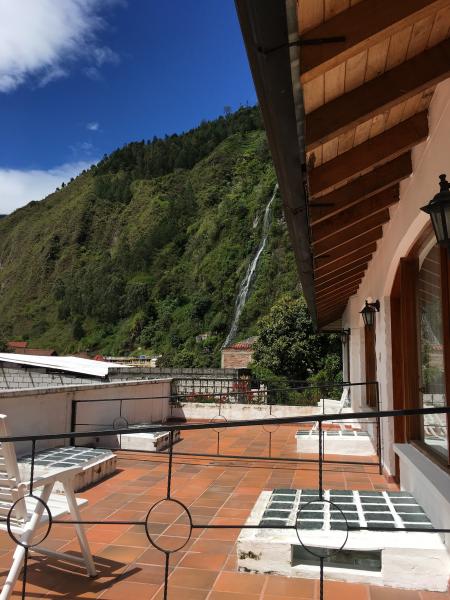 Secondly, Baños is known as the Land of Waterfalls, so much so that the entire area is powered by a hydroelectric damn. These waterfalls are not only the main power source of Baños, but also serve as a wonderful attraction. While exploring the valley, visitors can stumble upon more than 60 waterfalls. I'd highly recommend you visit Pailon del Diablo, or Devil's Bowl if you only have time to visit one waterfall.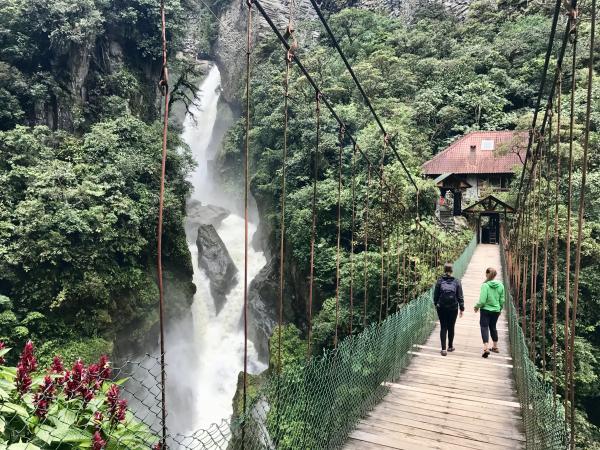 Influxes of cultures in Baños and a growing ex-pat community have lead to wonderful dining and shopping opportunities. During our time in Baños, Molly and I dined at everything from a Mediterranean grill to a local Ecuadorian favorite. We were also able to find an American style brewery, and Irish Pub, Mexican food, and Venezuelan cuisine. For a fairly small area, the amount of culture was refreshing.  As a word of advice, a must-do in Baños is to stop by the candy stores and try their hand-made taffy!  
The arguably largest attraction of Baños is adventure sports. Molly and I tried the Tarabita, or cable car, that crosses a mile long cable over a nearly 500-foot gorge. This was certainly enough adventure enough for us! For true adventure seekers, Baños also offers nearly every other adventure sport from white water rafting, bungee jumping, repelling, and zip-lining.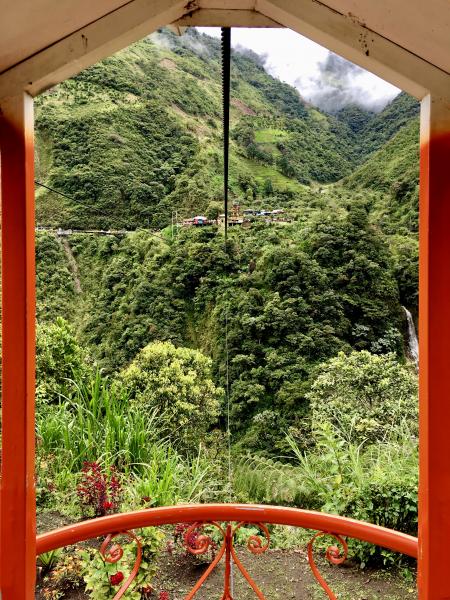 The true reason that I was so excited to venture to Baños was to cross the swing at the end of the world off my bucketlist. The original Casa Del Arbol is housed in Baños and features a tree-house style swing facing the Tungurahua volcano. With nothing more than a rope casually strapped across the swing, travelers are free to swing themselves over a small gorge. While this may not be appealing for everyone, I couldn't think of a better way to end an incredible adventure!