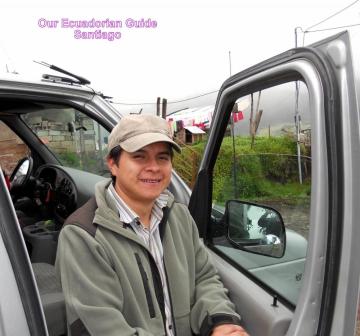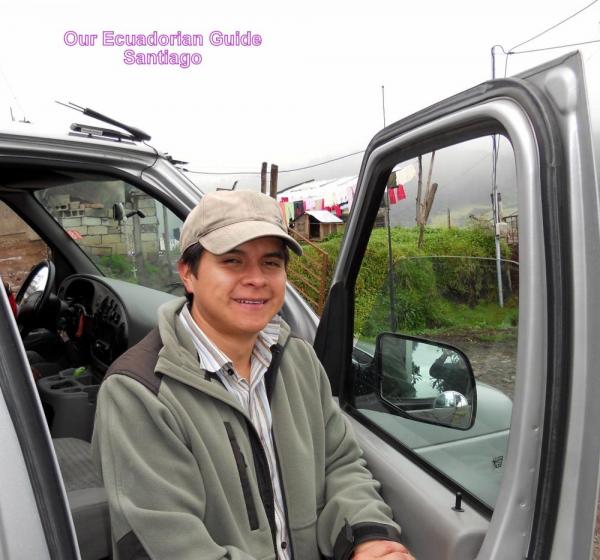 After an exhausting day (the day before), we all slept well at our hotel last night. The next morning our guide picked us up to take us shopping. We had a new guide this morning and his name was Daniel. Once again a charming, good-looking, informed and articulate gentleman. There were 10 of us and we all fit into a comfortable van.
Our first stop was the open-air market of Otavalo. This market is one of the most famous in South America and especially in Ecuador. The local natives have their wares shown in the market square. All sorts of crafts, rugs and garments made by the local people are shown and sold. Bargaining is something that is to be expected. When buying you must never, never pay the asking price. 30% less than what they ask is a good way to gauge a good buy.
After the open-air market we went to a small town not too far away that is known for its leather goods. More than its leather goods, it was interesting because it wasn't a real tourist town and therefore we could experience the day-to-day life of the local Ecuadorians. We spent some time shopping and then we met for lunch at one of the local restaurants. Eating at this restaurant was an exciting experience. Not only would the locals eat their (once again not a tourist location) lunch, but also what they had on the menu was true Ecuadorian food.
The food was delicious but we had one person at our table that had a special treat. We had heard from our guide that one of the Ecuadorian delights and specialties was roasted guinea pig. Well, my brother-in-law Norman is a very adventuresome eater. When he saw that the roasted guinea pig was on the menu he ordered it up right away. If you look at our photos you will see a picture of the aforementioned guinea pig. Frankly, after trying it, you must partake of this special treat.
On our way back to Quito we stopped at many different, beautiful and interesting sites. One of which was the globe that showed you were right on the equator. It was back to our hotel, a good meal, a good nights rest and off to the Galapagos tomorrow.