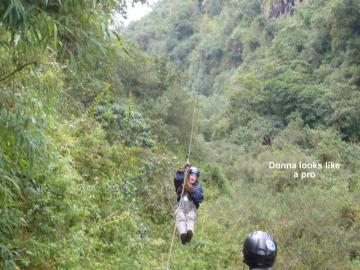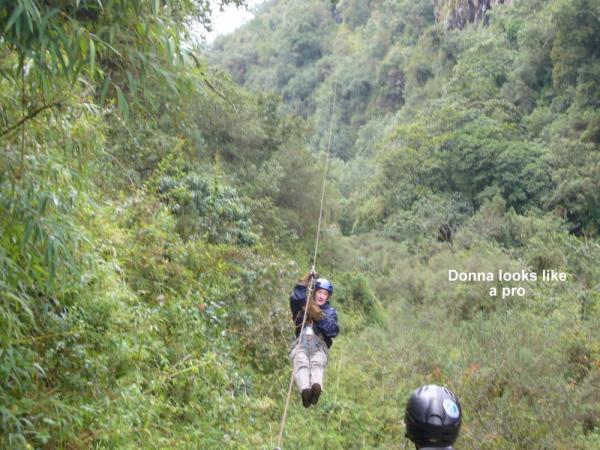 The ship we were on is the Millennium. It is a catamaran, which is a double-hulled vessel. Because of the two hulls, the ship moves through the water very smoothly and except for an occasional choppy sea the ride was very nice.
There were 12 crewmembers on the millennium. The captain, the first mate, two engineers, two cooks and the rest were general deck hands. All spoke Spanish, and few spoke any English at all, but with Sam's help we all understood each other very well.
The food on the Millennium was magnificent. The chef and his helper were outstanding. Every meal was something new and delicious. I never heard one complaint the entire cruise. That really says something because when it comes to food somebody is always dissatisfied, but not on the Millennium.
Our daily routine was basically early to bed and early to rise. We would have our breakfast and then proceed to go on a hike or to go snorkeling. Most every afternoon was spent snorkeling off the Zodiacs.
Even though we snorkeled almost every day I will comment at this point about our adventures while snorkeling. The water was delightful, neither too cold nor too warm. The sea was always quite calm during our snorkeling adventures. Sam was always a part of the snorkeling routine. Not only did he swim with us, he also watched over us, pointed out the fish and other animals and made us always feel protected and at ease.
We witnessed hundreds of types of fish, seals, sharks, giant sea turtles, birds of every imaginable sort on our snorkeling trips. Most, if not all, of the guests aboard the Millennium stated that it was the best snorkeling they had ever experienced.