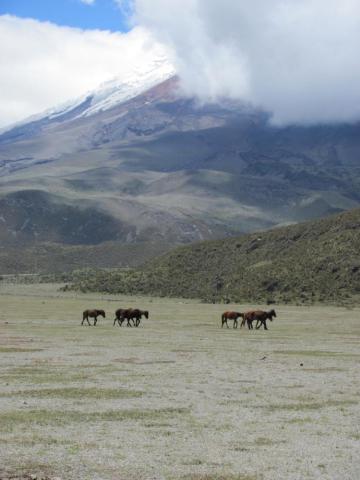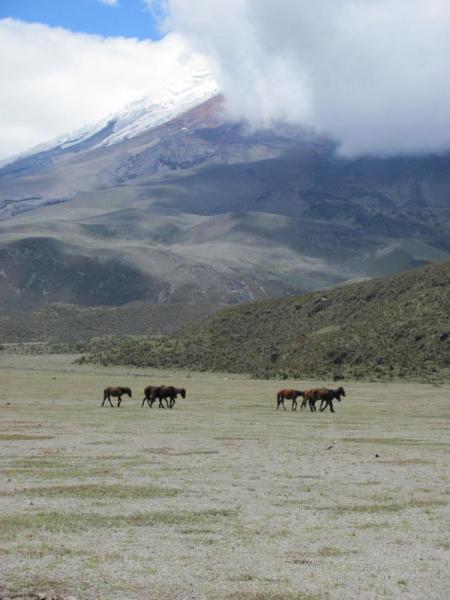 Daniel picked us up bright and early for our trip down the Avenue of the Volcanoes to Cotopaxi National Park, past tightly-packed houses built of unreinforced concrete just waiting for an earthquake. The magnificent mountain peaks around us were snow-capped only five years ago, Daniel said: global warming has removed the glaciers that Quito counts on for its water supply. As we drove, Daniel filled us in on the history of both his peoples: the indigenous Quichua and the conquering Spaniards.
Inside the park, Daniel took us for a shake-down walk at 11,000 feet along a large pasture that had recently been the Laguna de Limpiopungo. Then we were ready (?) to try higher altitude. He parked at 13,000 feet and we zigzagged—slowly, oh, so slowly—up to the Base Camp building just below the retreating glacier, while the top of Cotopaxi loomed through the clouds above us. The peak of Cotopaxi is the spot on earth closest to sun. Daniel would be helping lead an expedition there in just a few days; evidently it's necessary to leave Base Camp at midnight, hike to the top in six hours, watch the sun rise, and scurry down again before the equatorial sun softens the snow. Not for us: at the Base Camp, sitting at 14,400 feet, Daniel supplied us with cups of cocoa to give our wobbly legs the strength to get us down again.
It was slightly horrifying to zoom along back into the city, sharing the highway with open pick-up trucks piled high with vegetables and, perched on top of the load, small children and grandmothers in black top hats bouncing along. After an interesting search by Blackberry and cellphone through rush-hour traffic—both vehicular and pedestrian—on precipitous streets, Daniel dropped us at the restaurant La Mosaica. We sat on the balcony overlooking the Old Town—straight down—and dined on some of those Ecuadorean vegetables as we watched the sun set behind the mountain peaks and the lights come on across the city and up the mountainsides. The restaurant owner, a New Yorker, sat with us over complementary passionflower liqueurs, and then we had a $3 taxi ride back to the hostel. A perfect ending to a perfect trip. We just wish we could have adopted Daniel as our own, and moved permanently into the gracious rooms of the Hostel La Rabida.