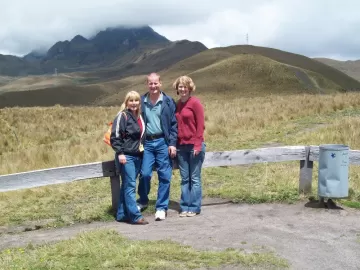 Day 2 – 10-18-08 (Saturday)
We were up by 7:30 a.m. and had breakfast at our hotel. Kathryn then took us to the "Tele Furico",
a cable car 10,000 feet up above Quito, a total of 14,000 feet above sea level. (the taxi to get to "Tele Furico" was $2.50). All of Quito was laid out below us, the view is absolutely AMAZING. Quito is set in a valley between the Andes Mountains; it is just mind boggling how close we are to the Mountains. We go one block from our hotel, we are at a street corner, Kathryn says,"Hey mom and dad look over here." We turn and look and it is like we can reach out and touch the Mts. You can hear about the Mts., but you can't comprehend it until you see it. We climbed all over the top of the Mt. Great photo opportunities and tons of walking, we had to stop and take breaks because of the high altitude and the thin air. We came back down and took another taxi ($2.50) back to pretty much where we started, we then took a bus to the mall where we could eat lunch at the food court, so Greg and I hopefully won't get sick. The bus ride was .25 each. They do use the American dollar here, which is very good for us.  (There is no tipping, tax and tip is included in the price of meals and items). We walked around the mall for a while and saw one of their grocery stores. It was neat to look at their types of food. It was Saturday, so the store was packed, just like Saturday at home at the grocery. The most amazing thing is that grapes are imported to Ecuador from the U.S. and they are very expensive, $5.00 a pound for green/red grapes. WOW. We then ate at an Italian restaurant in the mall, the food was good and lots of it. We then hit a bookstore to look for books for friends back home. We were able to find a Galapagos book for Dr. Kim.
We then walked FOREVER (Greg thinks about 2-3 miles) to catch another bus to go to "Cuidad Mitad Del Mundo", the center of the earth (equator). The bus ride was an experience in and of itself. (.25 each) It was so packed that we were standing up the entire time. The bus stops all of the time to pick up passengers (it is like a taxi here at home, if you wave your arm the bus stops and you get on) We were on this bus approx. twenty minutes and got off one stop to early, and had to get back on the next bus. This one was even worse than the one before, the bus was so full that the doors "pushed" Greg on the bus into me. We felt like sardines in a can. We are like "is it ever full, and does anyone ever get off". At the next stop we get yet another bus to head to the Equator. (.15 each for a one hour ride) After we finally get to the Equator – we took several pictures and looked around at all of the monuments. There were a lot of little shops all around. It was giving me all sorts of ideas for Christmas presents. Kathryn is taking us to the "market" on Friday so we can get things cheaper and barter for them. After we are done at the "Ciudad Mitad Del Mundo" we get back on another bus to head back to Quito for the evening. This bus takes us back to far so we find a taxi and go back to our hotel. We aren't really hungry but we went out and found a "Texas" burger place with Ecuadorian flair. Greg had a burger while Kathryn and I had dessert and drinks. We walked around the Mariscal for a while. This is the party area of Quito where all of the "gringos" go and hang out. It is like Broad Ripple at home tons of clubs, and karaoke places to party. We head back to our hotel and sat in the living room in front of the fire and just talk for a while. We then went and rearranged our suitcases. Kathryn is taking the stuff we don't need on the boat back to her house for the week. Our ride is coming for us at 7:30 a.m.; we are planning to be at breakfast by 7:00 a.m.
Highlight of the day: Greg – The Tele Furico, seeing all of the neat scenery from the Mts.
Wanetta – Very glad to be able to climb the Mts. and not feel like my heart was
going to come out of my chest. It was very high up we could have reached out
and waved to the airplane passengers, and they would have seen us.