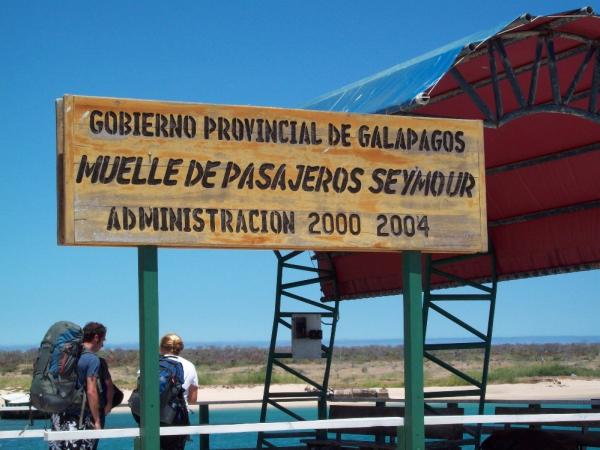 Day 4 – 10-20-08 (Monday)
Breakfast was @ 7:00 a.m. Very yummy, this boat is feeding us all of the time (after our time on the beach there were snacks in the dining room when we got back, the entire trip, after a trip to shore there is always snacks waiting on the boat for us). After breakfast we had a dry landing to South Plazas Island, we walked all over the Island, we saw tons of sea lions, a bachelor colony of sea lions, they are the non-dominate males who can't "get the girls". We also saw tons of land and marine iguanas, one type of iguana has to live on land and the other has to live near the water. These two types have begun to inbreed on the island, becoming hybrids of sort. But, those ones are asexual and don't survive.
This was a very rough, rocky trail all over the island. We also walked through a "cacti" forest. The cacti are what the land iguanas eat, but they have to wait until a part of the plant/leaf of the cacti or a cacti tuna (a tuna is the small round bloom of the cacti) falls to the ground for them to eat.
After spending about 2 hours on the island we headed back to the boat, we had a couple of hours before lunch. (Meals are at the same time every day, breakfast, 7:00 a.m., lunch is at noon, and dinner is at 7:00 p.m., they ring a bell throughout the boat when the meals are ready.) Greg took a nap I worked on this trip journal and then also took a nap. We are navigating to Sante Fe Island, about a 2-21/2 hour boat ride. (we don't sail, we navigate from place to place) The trip was kind of choppy, but not to bad, I brought my seasickness medicine.
After lunch we sat in the sun for a while, the sun is very intense, I would hate to be here in the "hot" season. Then we got ready to snorkel. Greg brought his gear and he is going to rent a wet suit. I am staying in the dinghy and watching. The water is a little chilly, hence the wet suit. Greg had a BLAST. He has an underwater camera and he says that the view and scenery are just amazing. They were able to snorkel (about 7-8 people snorkeled each time) all around Sante Fe Island. After snorkeling we rode the dingy to the island and hiked all over the island. We saw more sea lions, (they stink) iguanas, and the Galapagos mocking birds. The mocking birds are funny; they have no natural place to get water on the island. (they can't drink salt water) So if you are hiking, and have a water bottle with you, they can either see or smell the water, when you go to take a drink they literally follow your bottle all around on the ground. It is so weird, we just moved our bottle around to see what they would do and they will go in whatever direction the water is going. We are not allowed to give them any water, because they want them to stay in their natural habitat. For liquid, they will coax the birds off of their nests and break the eggs and drink the eggs for liquid.
Back to the boat, then a shower and dinner at 7:00 p.m. currently it is 6:15 p.m. and we are all sitting around on the upper deck visiting with everyone and talking about the day.
Everything is so amazing and beautiful. There has been wind so far all of the time, Donnie would love the "sailing" weather.
We sailed through the night to get to Gardner and Espanola Islands, about a 5-hour navigation. It was a little rough, but really not to bad.
Highlight of the day: Greg – Snorkeling
Wanetta - The cacti forest, island scenery, all of the rocks along the shoreline and the amazing surf