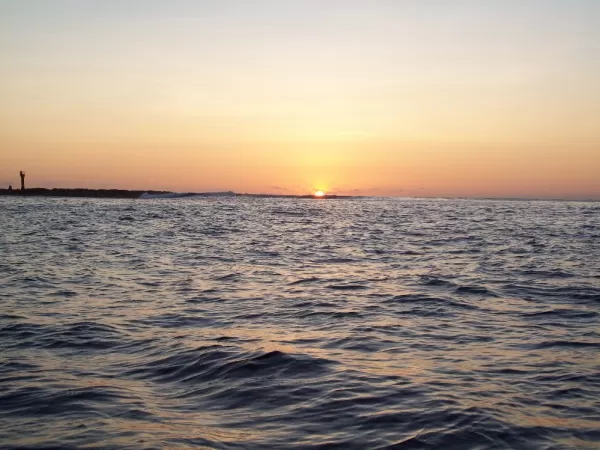 Day 5 – 10-21-08 (Tuesday)
Breakfast at 7:00 a.m. then on to the beach at Gardner Island for sun, fun and relaxing at 8:00 a.m. it is very overcast and gloomy; it even started to sprinkle rain before we headed to the beach. We landed on the beach in the middle of a fairly large colony of sea lions. This is a very long white sandy beach to explore. We are here for approx. 2 hours then back onto the boat.
10:30 a.m. was another time to snorkel; about ½ of the group went this time. Greg saw golden rays, starfish, stonefish (they blend in with the rocks/stones and are very hard to see) manta rays and tons of fish that he doesn't know what they are, very nice. He also got to snorkel in and out of a cave that was very cool. The highlight of the snorkeling was running with a huge school of dolphins. Greg says that there were probably a hundred or so of them all around the dinghy. We could even see them jumping all around from the boat.
After lunch we headed to Espanola Island, just around the corner from Gardner Island, we actually landed in Gardner Bay on Espanola Island. This was just about a 90-minute boat ride. The sun finally came out, I stayed in the sun while Greg went and took a nap.
At 3:00 p.m. we headed out on a 2 ½ - 3 hour hike. This was a very rocky trail the entire hike. We are stepping/jumping from rock to rock every step we take. This is the hardest hike we will take all week long. We got to see blue footed boobies, nazca bobbies, Galapagos hawks, waved albatross and a yellow warbler canary. There are tons of birds on this island, more sea lions and another kind of marine iguana. During the mating season, this iguana is called the "Christmas" iguana because of their red and green colors.
The coastline of all of these islands is just breathtaking and amazing. Greg loves all of the animals and I love the sight and sound of the surf. We got to see a huge blowhole that spouts every time a wave comes crashing into the shoreline. Our group sat and watched this sight for approx. 20 – 30 minutes.
After supper we again sailed through the night to another island for tomorrow. There are several members of the group that want the "magic" pill to make the waves go away. I am doing very well and Greg is having no problems at all.
Highlight of the day: Greg – Snorkeling and the dolphins
Wanetta – The birds and the beautiful surf