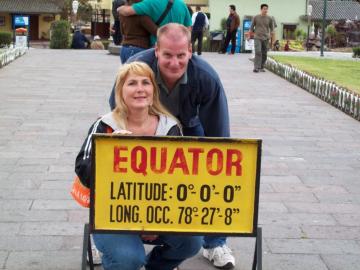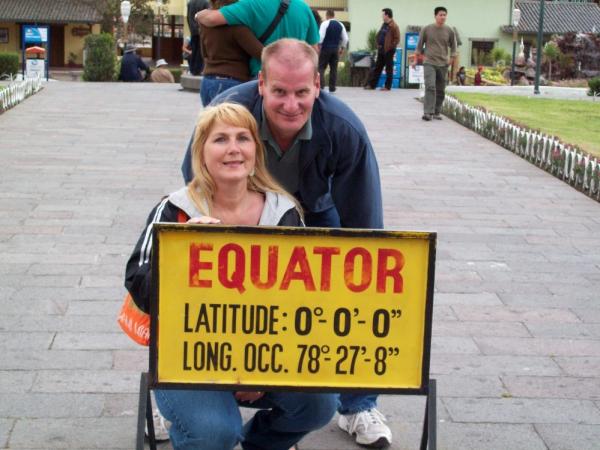 Day 3 10-19-08 (Sunday)
We were up by 6:30 a.m. for breakfast and to be ready for our ride to the airport to head to the Galapagos Islands. Our guide is on time and we head to the airport, our flight was a little later than we thought, so we got to sleep in a little. Kathryn came with us to the airport, but couldn't go past the security points, just like at home. Our guide had all of our Galapagos paperwork, (tickets, customs forms and passes to get into the Charles Darwin Institute). Thank God for our guide. We would have had no clue as to where we were going or which line we needed to be in had it not been for him.
Take off was amazing – as the plane turns around to head down the runway, you look out the window and the Mts. are in front of the plane, it looks like you will run into the Mts. We fly for about forty-five minutes and land in Guayaquil to exchange passengers. Galapagos passengers stay on board, our flight will resume in about thirty-five to forty-five minutes. We took off again and landed about an hour and forty-five minutes later on Baltra Island (only one of the many Islands that make up the Galapagos Islands). Looking out the window at the Island and the runway, you wonder where the plane will land, the island seems to be as long as the runway…we landed and taxied to the hanger. I don't know what I expected from this part of the world, but this isn't it. Desolate is the only word that I can think of for the landscape that is out the window. No trees just very open, water in the distance and lots of scrub brush and weeds. I fell as if we have left civilization behind. The airplane terminal has an open front and back with a tin roof and sides. It is something that I would think that I would see in "Africa". We went through customs, got our passports stamped, cards punched, paid our fee for the Charles Darwin Institute. We met our guide, Carmeilo, and took a bus ride to the pier, (about 5-6 minutes) (this is all that is on this island, just the pier for the boats, a ferry and the airport terminal). We loaded up our luggage into one dingy, and passengers into another and road out to our boat, "Guantamera". We have twelve passengers, six crew and our park guide, Carmeilo.
We will not be spending a lot of time in our room. It is about 5" 4' x 6" 3', with bunk beds a tiny table with two drawers and a minuscule bathroom. I am so glad that we sent all of our "cold" weather clothes with Kathryn; we would never have had room in this tiny space for all of them. We headed to the dining room for lunch, tuna salad sandwiches and a fruit bowl, very good. After lunch it was time to head to the islands.  
We spent the afternoon on Los Barges beach. The beach is called "Los Barges" because of all of the barges from years ago that carried fresh water from Island to Island. When they stopped carrying water from Island to Island, they left the barges anchored out in the sea, and basically forgot about them. They eventually broke up and are scattered along the shores of this beach. This beach is beautiful white sand, it is so soft on your feet, and it feels like you are walking in flour or extra fine ground sugar. The sand is filled with tons of beautiful shells, coral and all sorts of things that have to remain in the sand. Since all of the Galapagos are a national park, there is no picking up of shells and things to take home.
The animals are just amazing and EVERYWHERE. We are looking at "sally light foot crabs" named for a woman "Dr. Sally" who spent her life studying and working with these beautiful crabs on the GI.* Some other animals we saw were, lots of marine and land iguanas, pelicans, frigates birds (they are the scavenger birds) they feed on sea turtle eggs, baby turtles and baby crabs. We got to see a pair of pink flamingos, they live in small lagoons scattered throughout the interior of the GI, we saw a couple of white boobies, a blue heron type of bird that was a lot larger than the ones at home. We spent about 2 ½ hours on the beach, we headed back to the boat via dingy (there will be a lot of dingy riding this week). We all met on the top deck of the boat for a talk on national park rules for the week and how to act around the animals, while in the park.
The crew passed around cocktails, we met the captain and his crew, we went over the itinerary for tomorrow (the only board I forgot to take a picture of), then went to dinner. Dinner was some sort of baked tuna/fish along with rice, mashed potatoes, veggies and dessert. Greg is in heaven with all of the fish and seafood. Our cabin is right next to the galley so he gets to "smell" all of the goodies coming out of the kitchen.
We have had a chance to talk to some of our "boat mates" for the next week. We have an interesting mixture on board, United States (us), Australia, Great Britain, Denmark, Italy, Germany, Switzerland, and Ecuador. I am sure that we will get to know everyone by the end of the week.
Highlight of the day – Greg: Nature walk on the beach, seeing all of the animals
Wanetta: The white sand beaches, so soft on your feet