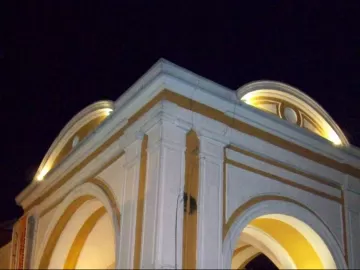 Day 9 – 10-25-08 (Saturday)
Up at 3:30 a.m. to head to the airport. We dropped Kathryn off at her house on the way to the airport, she has a day trip with BCA to cloud city. We had a couple of tears and she will be home soon. She loves Quito, but hates school…it is so much harder than anyone in their group had expected.
So now we are waiting to board our flight for Miami, it is 5:45 a.m. and we still have an hour to wait until take off. No liquids are allowed back here past security, nothing in the airport was open when we got to the airport. We both want some caffeine in the worst way. We each got our caffeine as soon as we got on the plane. It took about 3-4 hours to fly to Miami. At customs we ran into the same nice man from Quito that we had seen at the beginning of our trip, he wanted to know if we liked Quito and the GI. and what all did we see while we were there. It takes a little while to get through customs and pick up our luggage and check it back in again. We have about 3 hours before we head to Chicago and then Indy. We find something to eat, and then call different family and let them know that we are at least back in the States even if we aren't home yet.
We are on the plane headed for Chicago; we are worried about our connecting flight in Chicago. We sat on the tarmac for 1-½ hours to work on the plane in Miami. They were working on some strut thing, we want the plane to be safe, but this is nuts. We are supposed to take off from Chicago at 5:30 p.m.; we didn't leave Miami until after 4 p.m. it is not looking good.
We land in Chicago 10 minutes after our connecting flight had taken off, we have to try and fly standby on the next flight to Indy. We have already called Nathan and told him not to leave the house until he hears from us, making sure we are on a plane, headed for Indy. Luckily we get on the next flight leaving Chicago at 7:20 p.m. and we let Nathan know that he can leave to come and get us now. We are just dead tired, hungry and have headaches and just want our bed at home ASAP. Our flight to Indy is only 28 minutes, we have our luggage,   that, I wasn't so sure of, with all of the messed up flights. Nathan was there almost as soon as we landed; we got our bags and headed home. Nathan has black hair…something about a Halloween party and a Goth costume. I am really too tired to take it all in just now.
11:00 p.m. one of the most amazing trips we have ever taken is over, we can hardly wait to go back. As much as I miss Kathryn every day, I am glad that she went to Ecuador, she gave us the perfect reason, to travel somewhere that we probably never would had ever thought about visiting. Right now I am just so glad to be in my bed and get some decent sleep.