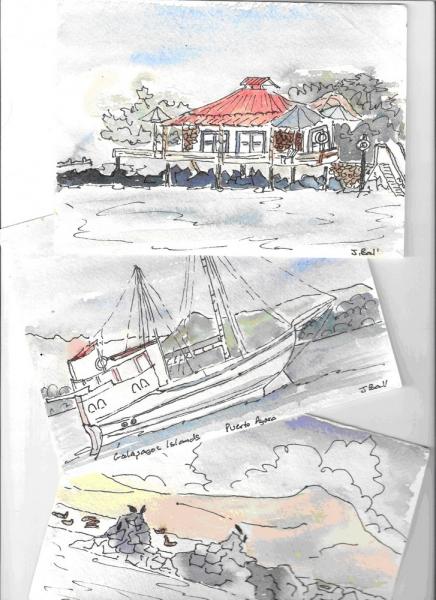 The bad news: After 17 hours of air flights and airport transfers I arrived in Quito, but my luggage did not. Drat!
The good news: Quito-based Ecuadorian Adventure Life Manager Betty Jaramillo took my luggage information and returned to the airport the following day. She worked some kind of Ecuadoriana magic and retrieved my luggage. I was in the Otavalo Valley by then and she offered to have my luggage driven up there if I wished. Talk about service! I suspect I would not have been as successful, if at all, in the luggage recovery department! She was the recipient of my two dozen roses from Otavalo Valley as a thank you!
The bad news: Due to the combination of a 6 hour ''mechanical problem'' delay for a Tame flight that resulted in us missing our small plane flight into Kapawi Lodge due to rainy season bad weather (take a breath!), we missed our first night at the Lodge.
The good news: The silver lining was a night at another Lodge, engaging dinner conversation with our 20 something hosts about Ecuadorian politics and economy, and some great Ecuadorian beer! Our flight the next morning was great.
The bad news: When we were ready to leave Kapawi Lodge rainy season weather delayed our plane. We had to make an early flight to the Galapagos the next morning and we had a big repack to accomplish. A time crunch and the real possibility of missing our Galapagos sail was looming.
The good news: When the weather broke our small plane came. We were flown to Shell and then driven four hours back to Quito. (We had long since missed our connecting large plane flight to Quito so there was no point in flying us to the larger Macas airport.) We got to see the Avenue of the Volcanoes and the scenic Banos area on this drive. We would not have seen these incredible views without this ''detour''! Kudos to the Kapawi Lodge team for being incredibly proactive to get us to Quito at 9 p.m. in time to pack for our early morning flight to the Galapagos the following morning!