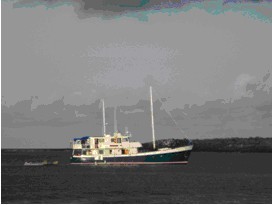 And the wildlife -WOW! I am not a morning person, and yet I set the alarm for 6 am daily and in 10 minutes I was the first passenger up on deck. I couldn't wait to see our new mooring! (We sailed at night!) Elizabeth Bay was magic with flying fish, diving flightless cormorants and blue footed boobies, marine turtles and penguins. With a killer sunrise to boot. WOW!
Even though I knew from years of reading about the Galapagos that the wildlife is not afraid of humans. . .WOW WOW WOW. . . I cannot describe how special I felt to stand looking at a Nazca Booby mommy bird shifting her scrawny featherless baby from one webbed foot to the other. A few steps further I saw several Blue Footed Booby parents with their downy chicks. Our guide said the Nazca Booby baby bird was less than 2 hours out of the egg. The mother bird uses her feet to insulate the baby from the hot ground, and her feathers from above to be sure it does not get cold. And the parents ignored us as if we were not there. WOW WOW WOW!
For years to come I'll reflect back on lots of wildlife images when I think about the Galapagos Islands. . .
. . .Sitting on a white sand beach in the middle of sea lions that I thought were simply sleeping when I came ashore. On the contrary, they were. . . grunting. . . changing positions to get the sand perfect. . . barking at babies to come back. . . letting the waves completely cover them before they bothered to move. . . rolling over so the sea lion next to her rolled over the one next to her who rolled over the one next to her. . . down the line like a bunch of chunky dominos. This colony of sun bathing sea lions was ANYTHING but quiet! WOW
. . . Stopping to photograph sun bathing lava lizards with their chunky Popeye arms grabbing a rock. Just before you click the photo the lizard slowly turns his head to present a profile as if to say ''this is my good side-take this picture''! WOW
. . . Quietly paddling the panga into a bay of calm marine ponds lined with mangroves, and drifting silently so marine turtles and sting rays peacefully glided beneath us. WOW
I could go on and on. . . the punch line for me is that these islands are magically special and surpassed my expectations. I feel very fortunate to have been able to spend time there. I will reflect back on this visit with wonder for years to come.