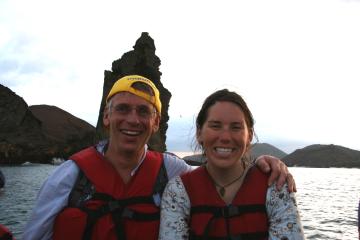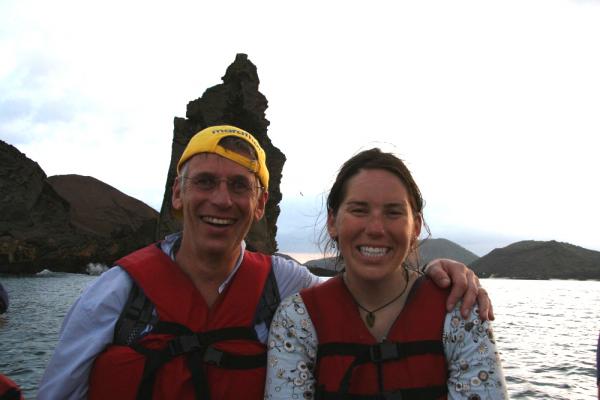 We set off early to visit Isabela Island, which was formed by five separate volcanoes. What impressed me about this island was the lush, green vegetation. Our guide expertly explained that the south sides of the Galapagos Islands receive more rainfall and thus are more lush and more green than other sides of the islands.
We hiked along the beach and did a short loop on a trail. We never covered a lot of ground on our hikes, but we took our time, so the guide could explain everything we were seeing. The sun was incredibly strong, and I was thankful to have sunblock, a hat, and sunglasses. We saw an incredible amount of wildlife on our short hike - penguins, flightless cormorants, iguanas, Darwin finches, pelicans, flying fish, hermit crabs, and giant tortoises. After the hike, we snorkeled at the beach. The water was a little too rough for the snorkeling to be very good, but I really enjoyed swimming along the shore and spending time on the beach.
We visited Fernandina Island in the afternoon. This island was not as lush as Isabela, but the wildlife viewing was phenomenal. The sea lions, blue-footed boobies, flightless cormorant, crabs, and marine iguanas were a dime a dozen. We had to keep an eye on the ground, as to avoid stepping on the iguanas! There is only a very small area of the island that is open to tourists, but you see enough wildlife to make a visit to Fernandina worthwhile.
There was a special BBQ dinner served outside on the deck of the ship that evening. The food was delicious, and everyone seemed to mingle more on the deck than in the dining room. A few of the staff even demonstrated several traditional Ecuadorian dances. It was an enjoyable night on the ship.