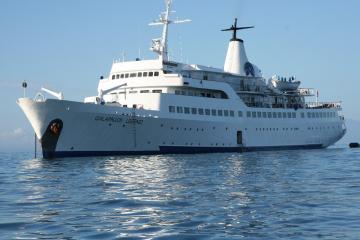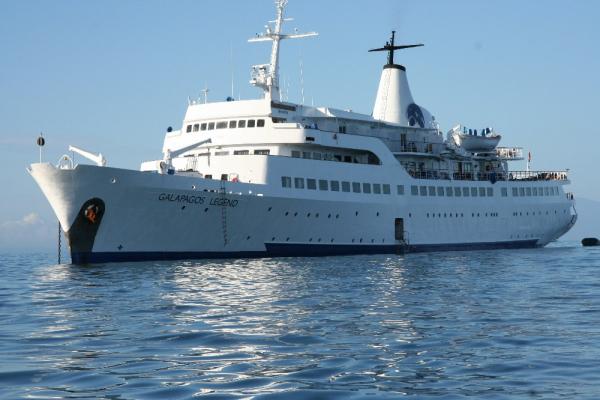 We visited Santiago Island during low tide, so we walked along to beach to look for wildlife in the tide pools. There were a lot of creatures relaxing in the pools - it was like a day at the spa! I learned that Santiago Island is made of compact ash, not lava, which gives it a very different look & feel. The vegetation was beautiful - there were morning glory vines in full bloom all along the shore and huge cacti further inland. And with an impressive volcano within view on the horizon, the scenery on Santiago was breathtaking.
After our hike, we had chance to snorkel. This was probably the best snorkeling of the trip, because the water was calm and clear and the sea life was abundant. It was the first time I had ever experienced large schools of fish swimming all around me. We also saw a shark and several sea lions in the water - what a treat! I didn't expect the snorkeling to be such a highlight of our trip, but it certainly was.
After lunch, we snorkeled again, just off the shore of La Rabida island. The snorkeling here was great too - we came across a group of playful & curious sea lions in the water. I was struck by how graceful they look in the water, especially given how clumsy they appear on land.
La Rabida Island was beautiful. The earth was a deep red color, and the vegetation was lush and green. We saw a lot of wildlife on our walk, and after exploring a bit on the island, our guide took us for a ride in the zodiak along the shoreline, hoping to spot more wildlife. We saw boobies, a penguin, and several other types of birds. The afternoon was not without a little excitement - our zodiak sprung a leak when we pushed up against a rock to get closer to the penguin. So we had to return to the ship to exchange zodiaks. The guide and driver handled the situation very well, and fortunately we didn't have to test out our life jackets!