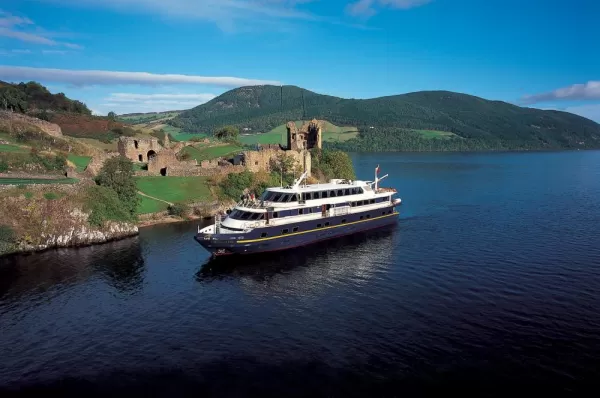 Hi everyone! Me here! Day Three of my Christmas holiday mini-cruise! I have to say that for as small as this boat is - only 130 passengers max - it has to be the best cruising experience I have ever had! That big ship experience I had on my last vacation pales in comparison to the attention the crew is giving me on this trip.
Picture this... there is a crew of thirty on this boat, and only 49 of us on this trip. So that means about one and a quarter passengers for every crew member? There is always someone at the bar waiting for my next "coffee" order (ha! more like Irish coffee in this European winter!). My room is made up two minutes after I leave it to go down for breakfast! By the time I get back to grab my coat for the tour, my bed looks like I've never slept in it.
That last vacation cruise with two thousand other passengers? It was mid-afternoon most of the time before my room got made up, and sometimes it was just before dinner. And try to find someone to get me a "coffee" or help with something else during the day? I could never find someone, and when I did, the chance that they spoke English was a thousand to one. On this boat, all of the crew speaks English and there is always someone around to help when I have a question, a problem, or need a "coffee" to warm up after the tour in the morning.
I have to say that the best thing about this trip is that because there are so few passengers, we've really become more like a big family on this trip, including some of the crew feeling like family! That never would have happened on one of those big ship cruises. Even though it has only been three days now, I feel like I have met friends that I will have for a lifetime. We tour together, eat dinner together, but most of all, we laugh together. I have to say this is the most fun I've had on a vacation in a long time.
It might not have all of the "extras" that a big ship might have - no pool, no "wall" to climb, or track to run - but I have to say, it is more fun, more personal than a big ship could ever hope to be. There is still a mini-gym for those of us who have to hit the treadmill even on vacation, but I think really that the thing that sticks with me the most on this trip is the fact that I feel like I'm more than just a room number. The crew takes time to remember my name, where I'm from, and what I like in my coffee. I wouldn't ever get that on a big ship.
Hey, gotta run now. We're having a Christmas sing-along with the crew in the lounge. It's going to be a blast! I heard them practicing this afternoon and have to say that some of them really shouldn't quit their day jobs! I'll try to log on again in the next day or two to wish everyone a Merry Christmas, but don't be surprised if you don't hear from me until I get home. This trip has really been the best holiday ever for me and I'm so glad I decided to go with a small boat cruise. I already know I'm going to do it again next year! Merry Christmas everyone! Love ya!