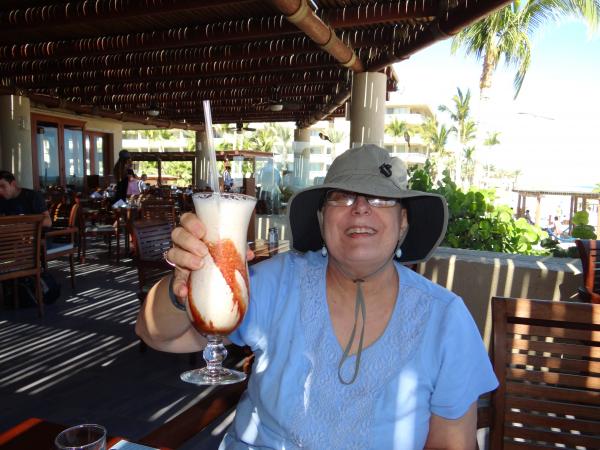 I'm an only child. I was raised by an incredibly energetic and loving mom who worked 110 hours a week for much of my childhood to support us. Consequently, I spent a lot of time alone and also with my best friend's family. So much so, in fact, that they became our family. We spend our holidays together, even now, and my kids call be best friend's parents, Nana and Papa, the same as their other grandchildren do.
Last month, Nana told us she had cancer, nothing too major, something a simple surgery could fix. This month, it rapidly progressed to Stage IV, incurable cancer.
I work in travel, it's what I know best. I've been to over 40 countries and all 7 continents. I've worked for the same adventure travel company for my entire adult life. When I heard this impossibly bad news, my first reaction was to want to fix it. You can't fix cancer though (believe me, I've tried). My first significant travel experiences started when I won a year long graduate fellowship to travel around the world stopping in remote clinics to research alternative cancer treatments. I met a lot of amazing people trying to help and even found some unique treatments that helped a few people- perhaps to manage symptoms better, or in rare cases, even provide an inexplicable cure. I didn't find the magic bullet I was looking for though… there's was nothing I could bring back for the next family or friend stricken by this greedy monster and say, 'here you go, this will make it all better'.
That never changed my desire to FIX it though. …Something that would ease the blow of this horrendous news. So, within moments of my initial shock of hearing that Nana had Stage IV cancer, my mind traveled quickly to this thought… I need to take her somewhere special.
Nana, age 67, had never held a passport. She had never left the US sans a quick weekend trip to British Colombia before they required passports to cross that border. I'd known her for over 30 years and she has talked many times of all the places she would one day go. She watched as her daughter studied for a semester in Europe and always loved hearing my travel adventures from my initial trip around the world and subsequent annual adventures. Nana, though, like my mom, was just barely making in financially. She worked two jobs and lived in a mobile home, pouring all her investments into her kids and extended family (all of us 'kids' that she adopted along the way).
Don't get me wrong. It's not like my best friend, Sarah, and I were selfish and didn't want to bring our parents along. Generally we found ways to travel for free,  or virtually so-  through fellowships, industry deals, frequent flyer miles, and school. We didn't have the resources to take our moms on big trips, though we had long talked of someday doing a 'girls' trip' overseas to show them some of the beautiful places we had seen.
So, when Sarah told me that Nana had Stage IV cancer, I thought of taking her on a big trip-  before I even hung up the phone. It doesn't fix cancer, but lifting the spirits can give cancer one heck of a punch back!
I gave it a few days to make sure that I was thinking rationally. Would she be physically able to make the trip? How would the timing fit between chemo appointments? Would she enjoy being on a trip when she could feel tired and nauseous? As much as I wanted to bring some solution, I didn't want the solution to be selfish- an impractical gesture just to say I had done something when it wouldn't really help.   
After a few days of ticking off the practicalities, I took a deep breath and drove over to Nana's house to present the idea. She was excited- which of course was the goal…. Give her something to look forward to that would keep her going. After all, the doctors had said they didn't know how much time she had. The biggest thing that my cancer research trip around the world taught me was that the strength of the human spirit often influenced the outcome. I met several who were bucking the odds, seemingly through sheer willpower, and that's what I wanted for her.
I was surprised, though, by her excitement. She has always been so practical- follow the rules, show up early, take care of others, don't jump into anything- this was the way she had lived. Here though, she was willing to take a leap into something very unknown.
Nana's biggest fear with the cancer, she told me that night, was not dying. Her biggest fear was losing her hair…. Nothing we could do about that I'm afraid. What we could do though, was go get her first passport- complete with her full head of hair- to give her something positive in place of the hair she was losing. Nana went to the passport office yesterday for her beautiful photo. Her chemo starts today.