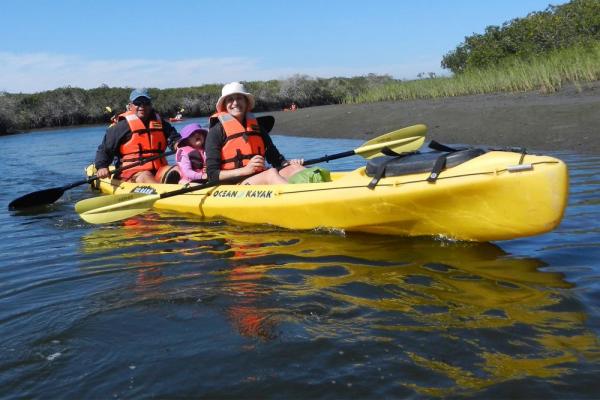 We were in our kayaks by 11:00 am. Paddle-talk included insight from our guides, Charo & Nolberto, on the ecological make-up of mangroves, the local fishing industry, as well as an animated conversation about our overnight coyote visit. Our tents provided the perfect place for dew to gather, and a few thirsty four-legged friends provided the most unique wake-up call I've ever encountered. After breakfast, four curious coyotes reappeared at the campsite to further checkout their new neighbors. (Note to self: Bring sandals, or other possible chew toys, into the tent at night.)
We easily paddled through the mangrove channels. The water was warm, calm and clear. About an hour into our journey we decided to get out and stretch our legs. Countless tiny crabs lined the top of the bank. They waved their large claws slowly back and forth. Naturally, I waved back. Charo explained this is how the males flirt with the females. I'd never had a crab get fresh with me before; I was flattered. But the crabs all quickly scurried back into their tiny dens as we made our way onto the bank. Turns out, I'm not their type. I tried not to take it personally.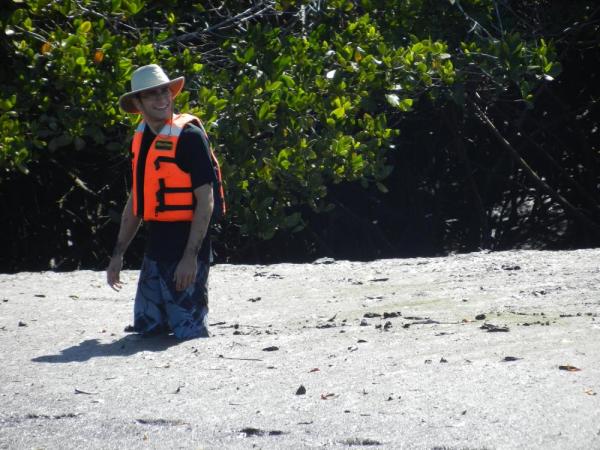 We got muddy. Noberto showed the kids how to dig for clams along the mangroves and we captured a few of the flirtatious crabs to get a better look. Our new travel-mate, Matt, decided to take on some of the more serious muddy shorelines, which quickly swallowed him up to his knees. We helped by laughing as he struggled to get out and proceeded to loose both of his shoes. Aaron took lots of pictures.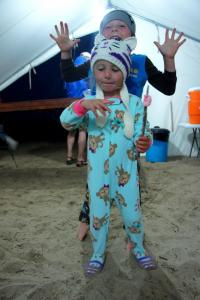 That evening Chef Hubert did his best to accommodate a Smores request. He lit a fire and found a few chocolate bars and a bag of bombón -- pink and white marshmallows. The kids got their sugar-fill and taught Noberto and Charo the "I hate rabbits" trick to keep the smoke away.
The stars were is rare form: bright and animated. The sky was clear and the moon hid beneath the horizon. On our isolated Baja beach, we were completely void of light pollution and couldn't help but be in awe at our ceiling of stars. We did our best to pick out a few familiar constellations: Orion's Belt, The Big Dipper and its "Little" sidekick. I dug out my 5-dollar constellation map which I had purchased at a gas station a few weeks prior to our trip. I felt pretty smart pointing out various astrology signs, until I realized my map was upside down. Oh well, no one seemed to mind. Our feet were in the sand and our heads tilted towards the heavens.
Want to go?
To read additional entries from our family Mexico adventure,
click here
.