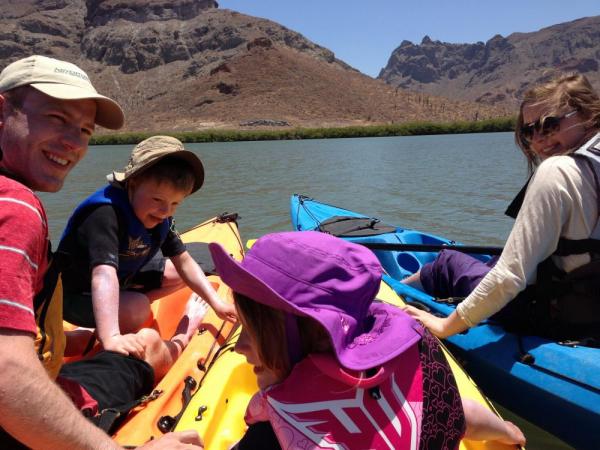 It was by lucky circumstance that our guide, Pedro, was joining us for more of our
Mexico travels
and we were delighted to have his companionship in Balandra Bay. An easy 25 minute drive from La Paz, the Bay is a fantastic place to do a little sunning and sea kayaking and this is exactly what we had in store. But the wind was a bit of a show-off that morning, so we decided to limit our full-day sea kayaking trip to a few hours paddling among the Bay's mangroves. (Arriving at Balandra, I sheepishly realized I forgot our cameras back in La Paz. Long story short, our sea kayaking trip was delayed about 50 minutes and I perfected the use of "Lo siento".)
Pedro gave us some quick paddling points while Aaron slathered the kids in a fresh coat of sunscreen. We were still a little pink from yesterday's sunny
Espiritu Santo trip
; today we were not being shy with our SPF. Aaron and I doubled up with our younger kids and our 15-year-old, Gabs, took on her own kayak. The paddle out was against the wind. It was a true test of core strength (shout-out yoga) and I was sweating-it by the time we reached the mangroves. On the other hand, my kayak companion, Faye, was kicked back with her toes dangling in the water. But the wind died down almost immediately once isolated by the mangroves.
Whew.
Pedro pulled some Oreos from his bag, which reconfirmed his coolness-status with the kids (and the kids' parents). Re-energized, it was a peaceful paddle in the mangroves. Pedro explained to us their significant role in the region's ecology and overall health of marine life. The mangroves themselves are beautiful: calm waters and lush vegetation set in the backdrop of Baja's rolling red landscape. It is a place where three hours passes in the blink of an eye.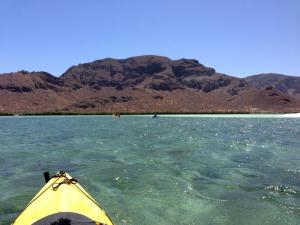 We glided our way back to the beachfront. I unloaded the kids and applied a little more sunscreen. By now the air was still, except for a calm breeze that seemed to come just when needed - almost on cue. Pedro unpacked a picnic lunch and we quickly ate it under our cabana.
The rest of the afternoon was spent relaxing in the legendary Baja sunshine. The kids grabbed hold of their goggles and went wading in the turquoise water. A perfect place for the kids to swim, they could wade nearly a 1/2 mile and still not get their hair wet. Gabs and I sat on the white-sandy beach with our feet in the water and I examined the shells, rocks or whathaveyous that Samuel and Faye plucked out of the Bay. Aaron and Pedro wandered further down the beach to take advantage of some great snorkeling. Once back, a game of tackle-the-kids-in-the-water quickly broke out. There was a lot of splashing and a lot of laughter.
I joined them.
To read additional entries from our family Mexico adventure,
click here
.