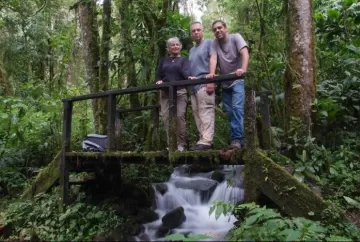 Well, while we got our massages yesterday, seems that Jake has done some research. He has found a local place he wants to take pictures. We eat breakfast outside on the patio and head over to "Paradise Garden". This is a garden/animal rescue place run by a "retired" British couple. They spent 2 hours with the 3 of us showing us the grounds and telling us about their efforts to educate the local people about the importance of preserving the local animals and birds. They have several parrots, other birds, a young howler monkey in diapers, a very nervous (previously abused) white capucian monkey, a wild margay cat, a bunch of tamarins and too many other critters to mention. The work they are doing is amazing and we weren't ready to leave when our taxi arrived. We made a donation to the cause and promise to visit again if we return to Panama.
After a "local" lunch in town (always find the spot crowded with local people) we walked to "Mi Casa es Su Casa". This is a private home and grounds that is open to the public for tour. The grounds are quite large with beautiful flowers, bushes, little waterfalls and streams. Mark, feeling the call of nature walks into the house where a maid tells him the house is not open to the public. Despite his look of urgency, she stands firm and Mark does a frantic jog down the street to Ruiz Coffee factory. There is a house for sale across the road from Mi Casa that I have seen on the Internet so as we leave the gardens Mark and I hike up the hill to look at the house. Jake decides he'll meet us at the coffee shop. After a steep hike up the hill we look at the outside of the house and decide not to call a realtor but instead we meet all the neighborhood kids and take their pictures. They like the digital camera and want us to take more pictures as they goof around posing. They spoke no English and my Spanish probably was useless but we still had fun with them for 15 minutes. We met Jake, lounging at the Coffee shop and joined him for a cup. The weather, after the first afternoon of rain while we were traveling has been wonderful; cool and sunny.
Back to Isla Verde to cleanup and rest a bit before dinner. We walk to Panamonte Inn and Spa which has been recommended and we have an elegant dinner complete with wine and after dinner cocktails. This is a lovely old Inn and a perfect ending to our short stay in Boquete.
We have really enjoyed Boquete. It is a small town where everything is within walking distance. We didn't bother visiting the fancy gated (American) communities outside of town but understand that they are very nice and the golf course is quite presentable. The area itself is very beautiful with Volcan Baru in the distance and all the hiking one could wish for in the largest Nature Preserve in Central America, La Amistad International Peace Park. This area is so green that it makes your eyes hurt!