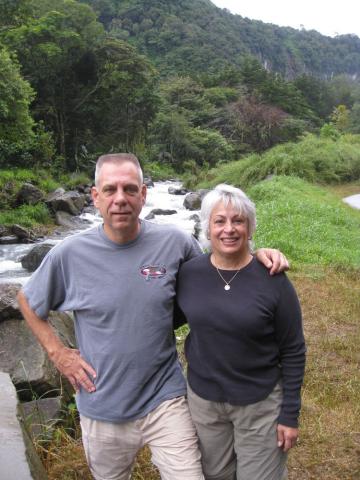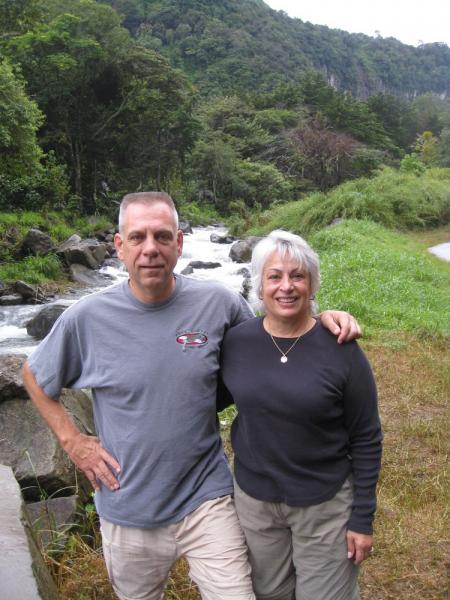 We're up early for a quick breakfast on the patio. Our guide, Arial, picks us up at 8 for a hike of Camino del Oleoducto (Pipeline trail) which is part of Parque Nacional Soberania. The area is beautiful and we see dozens of birds including motmots and tocans and a tree full of howler monkeys. I attempt to tell Arial the story of how howler got his name (which I learned on our Adventure-Life trip to Peru) and everyone gets a bigger laugh at my attempt to relate the story than at the story itself.
Jake is in heaven taking photos and we finally just hike and don't worry about him catching up. After the hike we go to the Gamboa Resort on Lake Gatun for a guided boat trip of a portion of the Lake. This is the largest man-made lake in the world which is actually part of the Panama Canal. We see a crocodile, white capuchin monkeys and a sloth. The Gamboa Resort was gorgeous - it is now "on the short list" and we will return and stay here. We stopped and had a cold beer on their balcony that overlooks the lake - Arial is worried about getting us to the airport but we decide there is ALWAYS time for one beer.
Off to the local airport for our flight to David and then on to Boquete. Arial gets us checked in with no hassles and off we go on a small plane (always Mark's favorite). Upon arrival in David, our new guide Rolando meets us. We have much to much luggage as we are planning to dive in Bocas and have brought some of our gear with us. He manages to pack all our bags in the back of his 4x4 and we dodge the rain drops as we take off. It rains buckets! We travel twisty turny roads through small towns and the traffic gets heavy and slow at several. Everyone is out despite the rain for a festival. Unfortunately and fortunately, we arrive in each town as the parade has ended. We don't get to stop and watch the parades but we also aren't delayed for an hour or more while the various parades are going on. If it wasn't rainy and muddy I would ask to stop to see a little of the activities but the muddy streets don't look especially inviting.
We finally arrive in Boquete and Rolando helps us get our baggage to our little Round House at Isla Verde. It looks nice here but hard to see the grounds since we're in the midst of a torrential downpour. The house has a double bed on the ground floor, a little kitchenette with a small table and 3 chairs and a loft with 2 twin beds. We settle in, giving Jake the double bed and then go over to the office. Our hostess, Ava, offers to drive us into town and we choose a little Peruvian restaurant for dinner. We've been given a $12 apiece allowance for dinner one evening as part of our package and this restaurant is included. Jake orders a Peruvian dish of beef heart but my stomach doesn't feel quite that adventurous this evening. Mark has a very good shrimp augratin dish and I had steak with grilled onions and vegetables that was delicious. The rain stopped as we ate so we walked home through dark streets with dogs barking. This was fine on subsequent evenings after we had explored the town a bit but was a little unnerving since we hadn't really seen any of the town when we arrived due to the rain. Long day - off to bed.