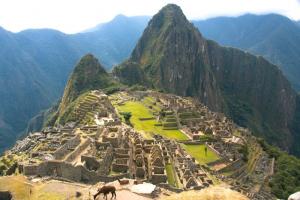 We have updated information regarding the re-opening of access to Machu Picchu and Machu Picchu Town (also called Aguas Calientes). Following up on our blog post from earlier this month -- there are
changes to the original schedule
that may affect your upcoming Peru trip.
The short version:
The damage on the lengthy, "backroad route" was greater than originally predicted, and the anticipated Feb. 22 re-open date of Machu Picchu came, went and we now look toward a new date: April 1st. By April 1st, Minister of Transportation (Secretary of Transportation), Mr. Enrique Cornejo, has confirmed there will be access to Machu Picchu through a combined train and vehicle transport.
Travelers will take a car or bus from Ollantaytambo to Piscaycucho (50 min.); then board the train at Piscaycucho to Machu Picchu Town and the ruins (70 min.).
This delay will also affect Inca Trail trekkers. The trail is wrapping up its annual maintenance, preparing for its adventurous hikers -- but once trekkers reach Machu Picchu there is not a return route available until April 1st.
The long version:
The heavy rainfall that hit southern Peru at the end of January, flooded the Vilcanota and Urumbama river and caused mudslides that made headlines for damaging the railroad to Machu Picchu and limiting access in and out of the region.
Just like you, we are disappointed that the original re-open date has been delayed. But the good news is, there is definitely progress underway. Repairs to the main rail are going well. Originally, reports from the Peru Tourism Board and railway operator,
FTSA
, anticipated that access would be available starting Feb. 22 by taking a train ride from Machu Picchu Town to the Hydroelectric station in Santa Teresa (about a 45 min. trip), and from there to take a car back to Cusco (roughly 6 to 7 hour trip). Not ideal, but at least it was an option. But while repairs to the rail are following schedule, there was more significant damage to this road than originally estimated. The initial time frame to open the road by Feb 22 was not possible.
The original schedule of the re-opening was designed as a three step process -- three routes opening up over the next few months. The April 1st deadline is right in line with the original schedule -- however it was supposed to be the second access option, not the first. But from all the conversations and information we've received from our local affiliates, the Peru tourism board and Peruvian transportation department -- we remain very optimistic that the April 1st date will bring with it Machu Picchu's grand re-opening!
Please note, these are of course subject to change, but we remain confident that FTSA and the Peruvian government will stick to the April 1st date as closely as possible. And pressure to do so, is great.
I know, I know; this whole "schedule" and "re-opening" thing sounds a little messy... But things are already settling down, shaping up, and moving forward.
And remember, if you have any questions on how this might affect your trip --
ask us
! We can help you find an alternative itinerary, customized to some of Peru's best kept secrets you may not have originally considered.