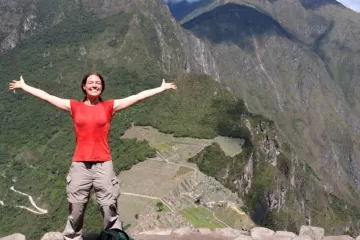 Today was the day we would finally arrive at Machu Picchu. We got up really early and started hiking so that we could be at the Intipata, or Sun Gate, for "sunrise". Everyone was all geared up to see the sun rise over Machu Picchu and was in such a hurry - it was kind of annoying to have people pushing past and, again, I could see the wisdom of being a bit further behind the pack. We hiked two hours to Intipata to be greeted by a solid bank of white clouds - Machu Picchu somewhere below. This is fairly common in both the rainy season and dry season. We began the final descent into Machu Picchu and gradually through the mist, I was able to make out the faintest outlines of the ruins of Machu Picchu - my heart was thumping! Gradually, the sun began to burn off the mist, and we were able to see the ruins more and more clearly. It ended up being a beautifully sunny day - postcard perfect!
We did a tour of the ruins with our guide, and I was amazed at how few people were actually at Machu Picchu in low season. There were maybe a couple of hundred in the huge expanse of ruins, which felt empty, compared to the thousands that will flock there during the summer high season months.
I have dreamed about coming to Machu Picchu since I learned about it in social studies class in grade school and actually being there felt magical. I had been a little worried that Machu Picchu wouldn't live up to my expectations or that I would feel a little disappointed when I finally got there, but it for surpassed anything I could have imagined. There is such a mystical feeling to the ruins that just has to be experienced.
As if Corbin and I weren't gluttons for punishment enough, after our tour, we decided to hike up to the top of Huayna Picchu - the mountain behind the ruins. There is a narrow and very steep trail that goes all the way to the top. There are actually some very interesting ruins at the very top that were used for grain storage, and the views looking down onto Machu Picchu and the river below is out of this world. It was well worth the climb, but I wouldn't do it if you were scared of heights!
I spent another hour soaking in the ruins, before we had to head down to meet the train. Because I was on such a tight schedule, I wasn't able to do the overnight in Aguas Calientes like we do on all of our trips, and I really think that is necessary. I wouldn't recommend doing what I did and leaving the same day - you really want to have more time to take in the experience.
We took the train back to Cusco, took a much needed, glorious, glorious shower, and had dinner before collapsing into bed.