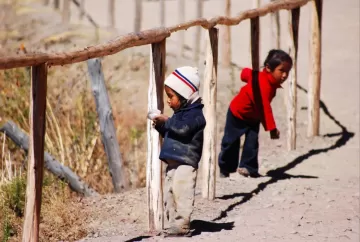 Opting for a second day at Machu Picchu provided us the opportunity to explore this mystifying place on our own. Having done my own research on Machu Picchu, I wanted to seek out some of the sights our guide didn't have the time to point out, and I also wanted time to explore the edges of the ruins in search of birds that I had dreamed of seeing ever since I received my "Birds of Peru" book. How nice it was to meander at a relaxed pace around the ruins and imagine what this place was really like 100's of year ago.
We arrived early enough to see the sun rise over the mountains and filter in to one of the many temples constructed to observe such natural events. It saddened me to think that we've become a race of beings that has forgotten to realize that we don't need a watch or a calendar to mark the changing of the seasons, but there is a rhythm that the Earth is speaking if we only take the time to listen. I think the Inca had that enlightened ability, and I was honored to be able to witness a glimpse of this astounding place.
I won't even say that all good things come to end because I knew that boarding the train back to Ollantaytambo and then to travel back to Cuzco would bring more opportunity to embrace this wonderful country.
I used to think that if money were no problem that I would want to just travel. But I learned something as I remained the only one awake on our drive from Ollantaytambo to Cuzco...if I DID travel a lot, would I take it for granted?
I wouldn't let myself fall asleep on this drive. I didn't want to miss a single moment of the scenic drive of this amazing country. I just wanted to soak it all in so that I could take it home with me and never let it go.
Somehow, I managed to stay awake the whole ride back and I was rewarded with a view that I didn't expect I would see. One of the festivals that I wanted to witness on a trip to Peru was Qoyllur Rit'i, but sadly I knew I would miss that opportunity by about a week. I thought it was enough that I was able to see Mount Ausangate from our ride back to Cuzco (not to mention the Ukuku on our train), but to my surprise, a van filled with Qoyllur Rit'i participants passed our van on their return home from this pilgrimage. They were still dressed in the celebration outfits and were shouting from their vehicles and still enjoying the festival they had recently departed. Sure, it wasn't the same as being there…but maybe it was a glimpse of a trip to come.