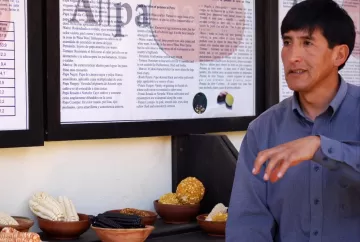 The flights home from Lima seemed to slip by in a dream. I couldn't wait to return home to tell everyone about this grand adventure and about the insights I've gained from my travel to Peru…but, I found that I didn't know where to begin once I finally saw my family.
I took an earlier stand-by flight home to Marquette out of the Detroit airport. My 2 year old son would still be awake when I got home if I paid a little extra for this option…and it was wonderful to see the excitement he had at Mom returning home with a gift of a toy llama that I purchased from another mother in a Cuzco market. If it weren't for my son, I don't know that I would have returned home. My experiences in Peru were long awaited, so to have to leave Peru only made me reset the timer for a return trip.
It's still difficult to try to summarize all of the wonderful experiences that I had on my trip to Peru. These entries are as abbreviated as my pictures that accompany this journal are. I'm thankful for the opportunity I seized to make this trip happen, and I'm even more thankful that I chose Adventure Life to plan these events. My blessings are outnumbered by my breaths.