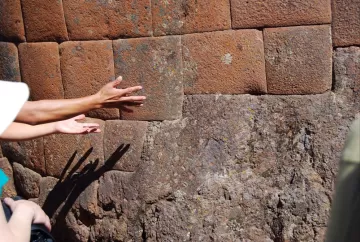 We opted out of the optional tour this final day (our financial resources were getting pretty tight), so that we could spend time "alone" among the "local tourists" who have come to Cuzco for the celebrations leading up to Inti Raymi. Parades had been part of the activities occurring in Cuzco ever since we arrived, so we wanted to partake in what locals do in anticipation of the winter solstice and attend the parade that embraced the Plaza de Armas.
What I loved about the floats in the parade is that their messages weren't as literal as parade floats I see in the local festivals in America. Each one depicted a scene to send its message as opposed to making signage to tell the message. One of the MOST interesting examples of this was the float of an airplane being piloted by a pig. Running around the float were lab coated "doctors" chasing "patient" pigs with a very large syringe. All of this chaos was illustrating the importance of immunizing against H1N1. What a far more entertaining way to get PSA out to the public, don't you think?
Looking around the crowd, you could almost picture yourself right back in America. The vendors walked up and down the rows selling treats, and hats, and collapsible chairs; the "boy scouts" walked along in their uniforms carrying donation cups and bags; and "political" groups sought support by handing out a variety of different colored ribbons for patrons to wear for the low cost of a 1 sol donation.
But what captured my attention among all of this were two boys watching the parade. The eldest (and the tallest) had the younger one perched on his shoulders so he could see the parade over the tops of the crowd.
What I've learned from these sights: people are people no matter where you go. Whether we live in a different region or speak in a different language, we are all really just seeking happiness; and that quest can really unite us all. You could have dropped that parade almost anywhere in the world…and I'd bet you'd have found many of these similarities. I have to travel more to prove that hypothesis.