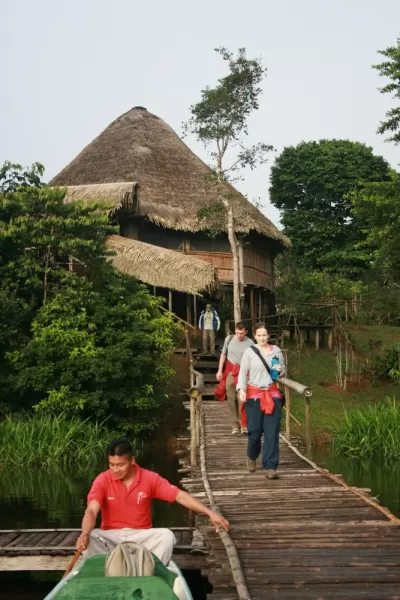 Another 6:45AM wakeup call. The voice that comes over the intercom system was so pleasant to almost be annoying! "I am sorry to wake you from your pleasant dreams but it is 6:45 and breakfast will be served in 15 minutes..." Where is my obnoxious alarm clock when I need it?
The black sand beach of Egas Port was amazing! We snorkeled along a rocky point with the sea lions and iguanas in the water, and then headed to shore to conquer the elements! Cacti were growing everywhere, even when it appeared there was nothing for them to attach roots to! I enjoyed this Island very much, and was especially impressed with the high volume of sea iguanas sunning themselves everywhere - EVERYWHERE! I was staying on the designated walking area and still almost stepped on one or two! Move it already.
But the time passed all too quickly and we were headed back to the boat for lunch and a quick nap.
Later I was able to participate in a deep-water snorkel and saw sting rays, a white-tipped reef shark, and lots of tropical fish - water heaven.
Once back to the zodiac, the group was off to interrupt the quiet time of a Blue-Footed Boobies colony relaxing with brown pelicans on a rocky ledge. Like the other animals, they were not even slightly perturbed with us and allowed the cameras to click away! It was as if they knew they were the main star of the show.
The ship had its Neptune Party on board tonight in celebration for those of us who were crossing the Equator by sea for the first time. And ice cream was served - and devoured - by all. Good times.