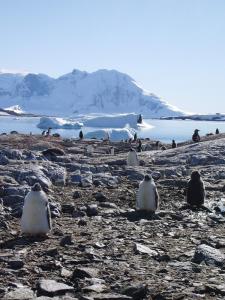 Travel to Antarctica has always been for those eager to explore the very end of the world. Unfortunately, as the location has been 'discovered', more and more cruise ships are making this their destination. The
International Association of Antarctica Tour Operators
says visits have risen from 6,700 in the 1992-93 season to 45,213 in 2008-09. Why not? Where else can you witness huge calving glaciers, the bluest of blue ice formations floating in the water, penguins by the thousands, whales, seals, etc. and at the same time visit the 7th continent.
What I'm trying to say is that the number of people visiting Antarctica each year has exploded! This has caught the attention of the Obama administration, and Secretary of State, Hilary Clinton. Travel to Antarctica, proposed regulations and limitations were just some of the items on the agenda at the convention that met in early April to discuss the 50-year old Antarctic Treaty.
What does this mean for future Antarctica travelers? Probably nothing for a season or two, but after that I am looking for the currently 'recommended' regulations to be enacted into law and enforced. In my mind, I foresee a system similar to that of the Galapagos Islands where a licensed guide of the Park must accompany all tours, and marked pathways and walkways are strictly enforced.
Is this a bad thing? I think not. We all want future generations to enjoy the same miraculous sights we currently enjoy, and surely we don't want to erode the fragile ecosystem of our southernmost region. We simply must slow down a bit and in doing so maybe we will appreciate our earth even more.
Check out more information on
CNN.