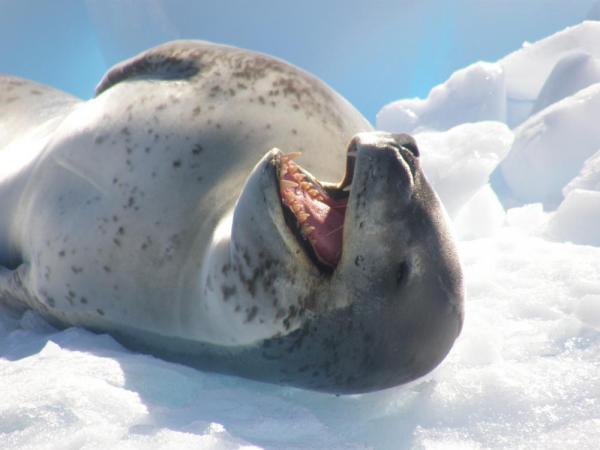 Once again our annual Trip Journal Contest has come to an end and I am happy to announce the winner is Nancy Golden. Nancy joined us for an epic 22-day
Antarctica cruise
including the Falklands, South Georgia. She shares details of her first landing on the Falkland Islands.
The 2 km hike was refreshing after a day or two at sea, but the payoff was even better. Just over the hill and around the bend lay a mixed colony of black-browed albatrosses and rockhopper penguins. With chicks, probably as young as two weeks. Swoon. If I appeared to be an easy target back at the distant condor sighting in Argentina, you can imagine that my heart almost stops just thinking about this, unable to bear the unperceivable cuteness of it all. Packed into grassy tussocks, we circled each group taking photos, reveling in our good fortune, and trying to keep our wits about us enough to maintain a respectable distance. And not hug the penguins. I must keep reminding myself not to hug the penguins.
If the colony was the reward for the hike in, the walk out resulted in a more conventional, albeit unexpected, prize. Upon return to our docking area, we found ourselves treated to the hospitality of the island's sole inhabitants, Lily and Roddy. Perfect British hosts, we drank tea out of dainty cups and saucers and quieted our grumbling stomachs with a spread of cakes and goodies. The lemon cakes were to die for. A stroll through their well-appointed gardens rounded out the visit, making a great morning even better.
A recollection filled with wit, personality and great adventure. Click here to read her complete
Antarctica travel journal
.
Nancy wins a 6-day
Panama trip for two to Tranquilo Bay
to enjoy the best of Bocas del Toro.
Choosing a winner for our
Trip Journal Contest
was incredibly difficult. The journal submissions we received are truly stellar and we toiled long and hard over selecting just one from the bunch. It is obvious a lot of time and talent was put into the journals. Thank you to the entrants. Your adventures are a pleasure to read.
View our Travel Journal Collection
.