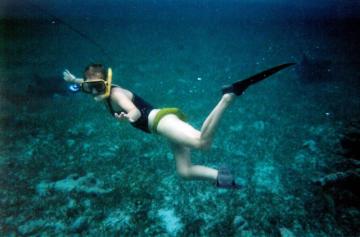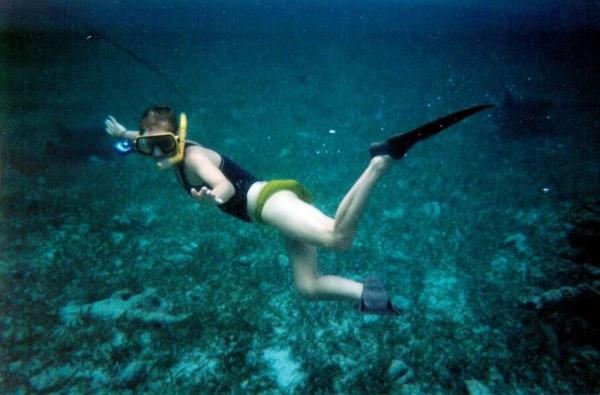 Another early rise-and-shine morning in Belize. Today we had a visit to the Maya ruins of Caracol planned, but Ben was also to surprise us with a stop at Rio Frios and Rio on Pools. Caracol is located near the Guatemala boarder; it is the largest Maya site in Belize. We had the park almost completely to ourselves. There was one small group of a handful of American travelers, and a small Indie-film crew. While a visit to Guatemala's Tikal is also easily arranged from Pook's Hill, I really enjoyed the solitude of Caracol. The ruins of Caracol are certainly worth it as well -- I was very impressed by the grandeur of the temples as well as the size of the grounds. From the top of the Caana Temple, you can see Guatemala in the horizon -- not to mention the fabulous view of Caracol's surrounding jungle. Ben, an experienced birder, brought along his telescope, and filled us in the surrounding treetop wildlife as well as the history of the ruins. And, while I had my heart set on seeing a howler monkey, they remained hidden. I had to settle for hearing a howler monkey instead.
After Caracol, Ben drove us to Rio Frios Cave. I was so overwhelmed by the size of this enormous cave I started to laugh. It is enormous -- did I already say that? Well, it is. A Batman fan and comic book nerd at the core, Aaron was in search of the winged mammals. There is a trail leading to the cave and natural pools that are popular for swimming. Just as we were leaving, a local school bus pulled up, and a herd of Belizean tweenagers came out. It was a good time to leave.
Rio on Pools was our next treat. It is a beautiful location made up of striking granite rocks and waterfalls. It was a perfect place for a cooling dip and a popular stop for many Belize travelers -- we were no exception. Aaron and I (Ben made himself comfortable on a nearby rock) shared the pools with a family, but otherwise had the place to ourselves. There are nearby warning signs stating "Careful, rocks slippery." My bruised thigh could vouch for that. "Careful," Aaron said. Thanks for the warning, Honey.
We stopped for a drink at Francis Ford Coppola's resort, Blancaneaux Lodge, in the pine forest region of western Belize. A foreign beetle has devastated this region. The dead ghostly trunks of the once flourishing pines stretch out for miles and miles. If you have ever come across a region impacted by a forest fire, this is exactly what it looks like. "It will take at least sixty years for the region to even begin to resemble its past self," Ben stated. Let's hope for a quick recovery. At Blancaneaux's lounge I orders Cokes for us in broken Spanish, and Aaron mocked me by speaking in broken German. Ben bested us all with his fluent English, Spanish and Mayan.
That evening Pook's was hosting a party for a volunteer group from Great Britain that was just wrapping up a month-long stint in Belize and Guatemala. The Brits celebrated with a Tarts and Vicar's party. Aaron and I were invited to join in the festivities, even though we were not dressed for the occasion. Unfortunately, I had left my "tart" attire back in Missoula. But next time ol' chums, I promise! It was the eve of my 26th birthday, and I could not have thought of a better place or a more unique group of people to ring in 26! The volunteers also hired a local Garifuna band to come and perform. Garifuna are local Belizeans, whose ancestors are escaped African slaves and Caribbean Islanders. Their rhythmic music is widely recognized the celebrated. I thoroughly enjoyed their performance. And yes, I danced.